This weekend, U2 performed two consecutive dates at the Mercedes-Benz Arena in Berlin, but ended their second night after only a few songs, with frontman Bono suffering from a "complete loss of voice." The vocalist took a fifteen minute break during their set, where instead of playing their 2000 single "Beautiful Day," he returned to the stage to cancel the concert entirely.
"This is like being in a giant cigar," Bono said onstage. "I've lost my voice and I don't know what to do. I was singing like a bird about 10 minutes ago."
Larry Mullen, Adam Clayton, and The Edge later published a statement apologizing for the cancellation on the band's website. "We're so sorry for tonight's cancellation," the statement says. "Bono was in great form and great voice prior to the show and we were all looking forward to the second night in Berlin, but after a few songs, he suffered a complete loss of voice."
"We don't know what happened and we're taking medical advice," the statement continues. "As always, we appreciate our audience's understanding and all our fans' support in Berlin and those who traveled from afar. We will update you very soon."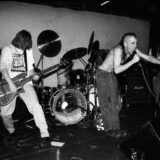 U2 was recently named the highest-paid musical act in the world by Billboard and the band released a video for the Beck remix of their song "Love Is Bigger Than Anything in Its Way" this July. Check out fan video of their Berlin performance below.
Get well soon Bono. From your Irish fans in Berlin. 🇮🇪 #U2eiTour @U2 @atu2 pic.twitter.com/CR0nbYBGgX

— Mark McCarthy (@mccarthy2066) September 1, 2018
The power of #bono voice before it surprised him in #Berlin and left him abruptly…he was singing his guts out (per usual). @u2 @U2eiTour The crowd so felt for him as he with surrender was obviously powerless and vulnerable. He's real and he's human, too, like we all are. pic.twitter.com/f0Tl3hhuA2

— ashley judd (@AshleyJudd) September 1, 2018
#Bono, i'm crying! 😭get well soon! See you soon, again ❤#U2 #U2NewsIT #U2eiTour #U2Berlin2 #U2Berlin @U2 pic.twitter.com/bRIyzqvPBy

— dani mattei (@daniDpVox) September 1, 2018
Update 5:45pm: Bono has issued a statement updating fans after Saturday night's cancellation. "I've seen a great doctor and with his care I'll be back to full voice for the rest of the tour," Bono said in the update. "So happy and relieved that anything serious has been ruled out. My relief is tempered by the knowledge that the Berlin audience were so inconvenienced. There was an amazing atmosphere in the house, it was going to be one of those unforgettable nights but not for this reason." The statement also notes that U2 will perform a make-up concert in Berlin on November 13.