Steve Harvey took aim at Pusha T in a freestyle on today's episode of Family Feud. Yes, you read that correctly. When Pusha and Drake were exchanging diss tracks back in May, Pusha referenced Harvey in "The Story Of Adidon." The line is "Monkey-suit Dennis, you parade him / A Steve Harvey-suit n*** made him."
Apparently, the insult — which was aimed at Drake's parents — got a rise out of Harvey, four months after the fact. "Who the fuck is Pusher T," Harvey introduced his rap. "Who is this broke ass boy? Where did he come from?" He quotes televangelist Joel Osteen, "People's opinion of you is none of your business, nor should you make it yours," and then completely goes against that ideology. Watch below.
In June, Kanye and the Kardashians joined Harvey on Family Feud. You can watch clips from that episode here.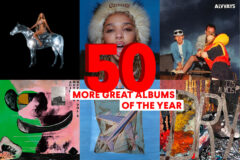 This article originally appeared on Stereogum.