While still riding high from the Shiny And Oh So Bright shows, the mostly reunited Smashing Pumpkins debuted a new song on Lauren Laverne's BBC Radio show on Thursday. While introducing "Silvery Sometime (Ghosts)," Laverne said "it does seem like there's going to be a new album coming mid-November" instead of the two EP's frontman Billy Corgan teased in March.
Laverne also confirmed that the new song was indeed produced by Rick Rubin. In January, Corgan and drummer Jimmy Chamberlin shared photos of what appeared to be recording sessions in Rubin's studio in Malibu. On first listen, the song is actually quote good, and to its credit, a bit cleaner than the band's previous output.
You can listen to the new track at the 1:54.00 mark here.
The Pumpkins seem to have teased the song's formal release this Friday.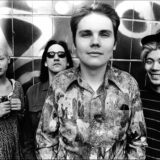 Kingdoms of my kingdom come.
🖤
Friday pic.twitter.com/SsicDWH17t

— Smashing Pumpkins (@SmashingPumpkin) September 13, 2018