Ol' Dirty Bastard is coming to the big screen.
A biopic about the Wu-Tang Clan rapper is in development at Sony's Columbia Pictures with Wu-Tang leader RZA attached to produce. The studio had no comment on the project.
O.D.B. (born Russell Tyrone Jones) was a founding member of the Staten Island rap collective with cousins RZA and GZA. Wu-Tang's first album Enter the Wu-Tang: 36 Chambers propelled the group to popularity in the crowded 1990s hip-hop space. O.D.B. released his first solo album, Return to the 36 Chambers: The Dirty Version, in 1995, which received critical praise and earned him a Grammy nomination for best rap album.
His music career was periodically interrupted by arrests and time spent in jail for charges that ranged from assault to drug possession. Combined with his music and legal troubles, O.D.B.'s eccentric behavior made him a well known personality. He famously picked up a welfare check in a limousine, rushed the stage during the 1998 Grammy Awards to protest Wu-Tang's loss to Puff Daddy and became a fugitive after fleeing from a court-ordered rehab clinic, resurfacing one month later to perform at a Wu-Tang album launch party for album The W. O.D.B. died in 2004 of a drug overdose.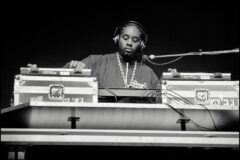 An O.D.B. movie has long been rumored, with RZA talking about the possibility of a biopic to Rolling Stone in 2016 saying, "Straight Outta Compton] showed that with the proper team and marketing, many of us out here who grew up on this music would love to see the inside makings of those stories."
Sources tell THR that the search for a director for the Columbia project is already underway.
RZA has made a Hollywood career both as an actor (Californication, American Gangster) and director (The Man with the Iron Fists). He most recently directed crime drama set during Hurricane Katrina, Cut Throat City, starring Wesley Snipes and T.I. He is repped by WME and King Holmes.
Since the massive success of Universal's Straight Outta Compton in 2015, Hollywood has been looking toward hip-hop and its biggest stars as material for projects. In 2017, Lionsgate released Tupac biopic All Eyez on Me, which went on to earn over $40 million at the domestic box office. Imagine and Paramount Players are in development on a movie about Atlanta rapper Gucci Mane.
This article originally appeared in The Hollywood Reporter.