Lana Del Rey has announced two new songs arriving sometime next week. "Two end of summer jams for ya out next week," she wrote in an Instagram post. "The first is called 'Mariners Apartment Complex.'" She then posted a clip of that song, tagging producer Jack Antonoff (Taylor Swift, Lorde), which would seem to answer the question of whether the two were, indeed, recording together when they hung out wearing matching beige suits last month.
She hasn't revealed anything about the second song, though it's possible it could be "Happiness Is a Butterfly," a song she teased and later deleted on Twitter in March. No word yet either on whether these new tracks are part of an upcoming album project, though given that it's been a little over a year since Lust for Life, that's possible too.
It's been a minute since we've heard new solo music from Del Rey, but recently she's appeared on lead single from Cat Power's new album, covered one of Madonna's Evita songs, and contributed an early demo recording to a documentary about Elvis Presley. She also postponed an appearance at a festival in Israel until she was also able to perform in Palestine.
Below, take a first listen to the soft acoustic guitar and strings of "Mariners Apartment Complex," which opens with the line, "You took my sadness out of context / At the Mariners apartment complex."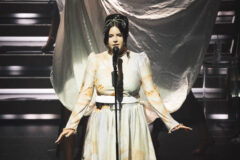 View this post on Instagram