Kanye West was the surprise creative director for the Pornhub Awards, which were livestreamed Thursday night on the platform. Artist Willo Perron was his co-creative head. During the ceremony, West premiered a video for a new collaborative single with Lil Pump called "I Love It." The song features a monologue by comedian Adele Givens, who also appears in the clip.
The video was executive produced by renowned director Spike Jonze, who has collaborated with West on numerous projects throughout his career, and co-directed by West and Amanda Adelson (who worked on the Jonze-written Jackass film Bad Grandpa and the Odd Future Adult Swim show Loiter Squad).
In the playful clip, Kanye and Pump dance down a hallway surrounded by female forms, decked out in oversize, square suits with huge footwear and chains. Their misogynistic and thirsty bars (West repeats the line "I'm a sick fuck, I like a quick fuck" several times in quick succession) earn them glares from Givens, who towers over the rappers like a giant. This may be the funniest and most self-effacing Kanye has been in some time.
During West's recent appearance on Jimmy Kimmel Live, Kimmel asked the rapper, "Do you feel like your attitude toward women has changed since having daughters?" West responded: "No, I still look at Pornhub." This prompted the website to offer West a lifetime premium subscription to its platform.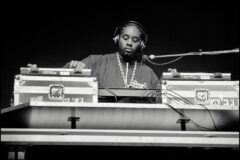 Watch the "I Love It" video below.