Kanye West addressed escalating tensions with Drake in a series of apologetic tweets today. West lamented his involvement with Pusha T's "Infrared," a song from Pusha's West-produced Daytona album which makes a reference to Quentin Miller, the rapper who was outed as being a ghostwriter for the Toronto rapper in the midst of Drake's beef with Meek Mill in 2015. "Since we were building as friends and brothers I should have spoken to Pusha about the Quentin Miller bar," West tweeted. "There should have been no songs with my involvement that had any negative energy towards you."
West also claimed he "never listened to either diss track" that followed "Infrared," presumably referring to Pusha's scathing "The Story of Adidon" and Drake's Kanye-and-Pusha-baiting "Duppy Freestyle." "The Story of Adidon" criticized Drake's treatment of his son, whose existence Drake had been planning on revealing publicly on his Scorpion album of this year. Pusha's diss track pre-empted the release of Scorpion. West tweeted to clarify that he had not had a role in passing on information about Drake's son to Pusha: "I did not have any conversations about your child with Pusha. I don't play with the idea of people's children after I spoke to Wiz a few years earlier."
He continued: "I understand Pusha's issues as a man if someone mentions your fiancé men go mask off. I've done the same myself at times. I love you and I love Pusha and we all have an admiration for each other's craft." Pusha allegedly recorded "Adidon" because he was upset about Drake bringing up the Clipse rapper's fiance in "Duppy Freestyle."
West also atoned for releasing his pre-ye, "poopity scoop"-famous "Lift Yourself" single without notifying Drake. The two had spoken about working together using the same beat prior to West's surreptitious release of his version of the song on his website. "Because we spoke about doing Lift Yourself together I should have given you the opportunity for us to do this together before I released it," West wrote.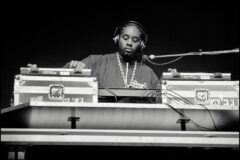 West's thread was presumably occasioned by the proliferation of an elaborate conspiracy theory about an affair between Drake and Kim Kardashian West that began circulating online over the weekend. Among other things, the theory is tied to the use of "Kiki," one of Kardashian's nickname, on Drake's "In My Feelings," some other very vaguely suggestive lyrics on his Scorpion album, and the proximity of Drake's house to Kim and Kanye's in Calabasas. Kardashian has denied the rumors.
A couple of weeks ago, Drake also seemed to diss Kanye in passing during a show in Chicago, altering the "Kanye dropped" lyric in his "Know Yourself" to "Kanye flopped." Drake also attacked his G.O.O.D. Music foes in his post-Scorpion "Behind Barz" freestyle, apparently referencing the chorus he is credited with writing on ye's "Yikes."
"This is all Jedi level," West concluded. "I will be coming to your show within the next seven days to give love and be inspired by the art you have created." Check out West's full mea culpa on his sporadically prolific Twitter page.
Sending good energy and love to Drake and family and crew💜💜💜

I haven't seen the show in person but the images look incredible online

I understand where the confusion started pic.twitter.com/oxSEEbNB1g

— KANYE WEST (@kanyewest) September 5, 2018