The streaming era of music keeps getting weirder. According to a report from TMZ, Frank Ocean is unhappy with the way his vocals sound on Travis Scott's Astroworld album track "Carousel." In the past, that might mean Frank would gripe about the experience in a few interviews and the disagreement would live on mostly as the answer to a pop music bar trivia question. Now, because new albums exist mostly in the malleable ether of the internet, Frank is reportedly seeking to have himself removed from Astroworld entirely.
According to TMZ's report, Ocean's team recently sent a cease and desist to Scott's team, ordering them to take Frank's parts off of "Carousel." His displeasure with the song apparently has to do with the way his vocals were altered on the song. The specific changes he's referring to are unclear, but it is true that his voice—which delivers the song's hook and final verse—has been audibly auto-tuned. TMZ says Frank made his displeasure with the changes clear before the release of Astroworld, but only recently got lawyers involved.
It's not that these sorts of disagreements didn't happen before streaming—I'm thinking about singer Clare Torry's long legal dispute with the members of Pink Floyd over her vocal contributions to Dark Side of the Moon, though that had more to do with compensation than musical merit—but now there is the strange possibility that the canonical albums might change as a result. The most infamous case so far of an artist changing their album after the fact is probably Kanye West's The Life of Pablo. Interestingly, the heaviest edits were to "Wolves," which featured a Frank Ocean guest appearance that was later severed and made into its own song.
On its own, Frank's cease-and-desist letter doesn't carry much if any legal force, and Travis's camp is apparently not budging on the changes. So it seems fairly likely that nothing will happen. Still, if you have a physical copy of Astroworld, you might want to hang onto it just in case.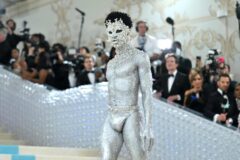 UPDATE 9/15: In a new post on Tumblr, Frank Ocean appears to have settled the cease-and-desist dispute with Travis Scott. He writes:
I THINK THE SONG SOUNDS COOL, I DID IT IN LIKE 20 MINUTES AND THE MIX SOUNDS THE WAY TRAVIS WANTED IT TO SOUND FOR HIS RECORD. I ALSO APPROVED IT BEFORE IT CAME OUT SO THE CEASE AND DESIST WASN'T ABOUT 🔊 IT WAS ABOUT 🏳️‍🌈. ME AND TRAVIS RESOLVED IT AMONGST OURSELVES WEEKS AGO. 💖
Travis Scott also took to social media to cryptically address the situation. On Instagram, Scott posted a photo of his "Blonded" t-shirt from last year's Panorama Festival in New York, captioned with some kind words for Frank. "Someone I call family and always will," Scott wrote. "Has taught me a ton. And a true inspiration in an out of the Stu." See Travis Scott's Instagram post below.