Eminem has released a fiery diss track directed at Machine Gun Kelly called "KILLSHOT." It's a response to MGK's recent "Rap Devil," which plays on the title of Eminem's overzealous 2013 miniepic "Rap God" and insults Em's age, struggles with addiction, facial hair, and more. "Rap Devil," in turn, was a response to a shot Eminem took at MGK on "Not Alike," a track from the older rapper's surprise album Kamikaze, released earlier this month.
On "KILLSHOT," Eminem insults Machine Gun Kelly's hair ("How you gonna name yourself after a gun / And have a damn man bun?"), career, and much more. "I had enough money in '02 to burn it in front of you, ho," Em raps. Later: "I'd rather be 80-year-old me than 20-year-old you." "It's your moment, this is it, as big as you're gonna get / So enjoy it," he continued. "Had to give you a career to destroy it." He concludes: "So just leave my dick in your mouth / And keep my daughter out of it."
The most (needlessly) incendiary line in the song, though? "The day you put out a hit's the day that Diddy admits that he put the hit out that got Pac killed." (In an aside at the end of the song, Eminem assures Diddy he's "just playing…you know I love you.")
The feud between the two rappers allegedly stems from a 2012 tweet of Machine Gun Kelly's, in which the rapper called Eminem's daughter Hailie Mathers "hot as fuck." Mathers was 16 at the time. Machine Gun Kelly claimed that Eminem subsequently blackballed him from his Sirius XM channel Shade 45.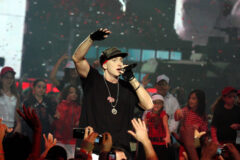 In a section of a multipart interview with Sway Calloway posted earlier this week, Eminem claimed that the Hailie tweet was not his rationale for dissing MGK on "Not Alive." "The reason that I dissed him is…'I'm the greatest rapper alive since my favorite rapper banned me from Shade 45′ or whatever he said, right?" Eminem told Sway. "Like I'm trying to hinder his career. I don't give a fuck about your career. You think I actually fucking think about you? You know how many fucking rappers are better than you? You're not even in the fucking conversation."
Listen to "KILLSHOT" below.
https://audiomack.com/embed/song/eminem/killshot?background=1