Infowars host Alex Jones announced Monday that fans of his far-right-wing conspiracy broadcast The Alex Jones Show should head over to Spotify if they want to hear him rant about pizzagate and other tinfoil hat fodder. Spotify soon received considerable backlash for hosting his show: this is a guy who poisons the discourse with paranoid screeds and fabricated stories like the idea the Sandy Hook shooting was staged, after all. On Wednesday, Spotify confirmed that it removed several episodes of his show from the platform following an outcry from users.
"We take reports of hate content seriously and review any podcast episode or song that is flagged by our community," a Spotify rep told Spin in a statement. "Spotify can confirm it has removed specific episodes of 'The Alex Jones Show' podcast for violating our hate content policy."
The company did not specify which episodes were removed, how many, or what specific content violated the service's terms of service. Although select episodes have been removed from Spotify, dozens of episodes remain on the service.
Facebook recently put Jones's personal page on a 30-day time out after determining that he violated terms of service regarding hate speech and bullying. YouTube also removed four of Jones's videos for similar violations.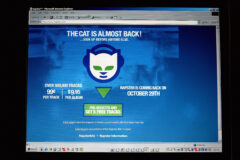 In May, Spotify removed artists like R. Kelly and late rapper XXXTentacion from its official playlists stating that they violated the platform's policy regarding "hateful conduct by an artist," but ended up quickly abandoning that policy amid outcry from users and artists alike.