Playboi Carti spoke to Genius last year and revealed that he was with Frank Ocean in the studio when he made "Nights" from 2016's Blonde. Ocean and Carti are back in the studio, and this time they're working together on some new songs.
Carti, who recently dropped his surprise album Die Lit, spoke about the collaboration today on Power 106's The Cruz Show. "Frank Ocean, he's the GOAT," he said. "The last time I worked with him was in New York about a month ago. We did like five songs." He didn't have a release date to share and suggested that the decision will be left up to Ocean: "You know, it's Frank, so he move how he move." Cruz asked where the songs are and Carti replied, "They're with him."
The duo have worked together before on "RAF" from A$AP Mob's Cozy Tapes, Vol. 2: Too Cozy. Last year, Carti talked to the FADER about collaborating with Ocean: "He really works with instruments and shit…He really showed me a new type of style and shit. We made a song and it was very lit. I don't know if the world's going to get it, though." Watch Carti's interview on Power 106's The Cruz Show below.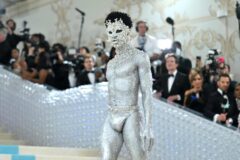 This article originally appeared in Stereogum.