Kitti Jones met R. Kelly after a show in Dallas in 2011, while she was working as a DJ for 97.9 The Beat, a local radio station that was sponsoring the afterparty. She'd been a fan of the R&B icon since his 1993 debut album 12Play, and was thrilled to talk to him—even more so when he gave her his phone number and asked for hers in return. Things moved quickly after that. Within five months, she left her life in Texas behind to go live with him in Chicago. She began appearing as a model in a provocative skit during his stage show on tour, where she was chained in a prop cage as he briefly emulated sex acts with her. According to Jones, the two had a romantic and sexual relationship that began consensually, but Kelly later became physically, sexually, and emotionally abusive.
In 2013, she decided she was done. She boarded a plane back to Dallas and never returned, afraid of Kelly and thinking she might never talk about what she'd been through. "Coming forward at that time was out of the question," Jones told Spin by phone from her home in Texas. "I wasn't sure who I was anymore. I was just ashamed, I wanted to go into hiding, I wanted to forget that it happened." (Kelly and his representatives have repeatedly denied abuse allegations against him in the past. Like all but one of the alleged abuse perpetrators mentioned in this story, he did not respond to a request for comment.)
When Jones did come forward last year, in an appearance on Inside Edition and an in-depth interview with Rolling Stone, the details of stories like hers were sadly already familiar. Thanks in large part to a BuzzFeed News feature by Chicago music journalist Jim DeRogatis earlier in the year, Kelly and his alleged victims had become a focal point of the #MeToo movement in music. Unlike the open-secret status of Harvey Weinstein's alleged misconduct, or that of music execs L.A. Reid and Russell Simmons, accusations of sexual assault against Kelly had been public knowledge for over two decades. But it wasn't until the BuzzFeed story that they threatened to derail his career. Concerts were canceled. At least one nationally syndicated radio show vowed never to play him again. Spotify attempted, albeit clumsily, to stop promoting his music to listeners. #MuteRKelly, a self-described "grassroots movement to end [Kelly's] career," received support from the Time's Up organization and celebrities like Ava DuVernay and John Legend. TV programs like Today ran supportive interviews with Jones and other survivors.
But there is one facet of Jones's experience, and the experiences of other women who have accused popular musicians of sexual abuse and misconduct, that has gone largely undiscussed. After the Rolling Stone story was published, Jones became the target of regular harassment on social media from Kelly fans, many of whom claimed she was not being truthful about their musical hero. "Bitch, stop lying. Your old ass was no one's pet," wrote one repeat offender, a Twitter account with the handle @kellznation, in March. Many of the messages Jones received accused her of seeking attention or money by coming forward. "There's no money in saying these embarrassing and humiliating things happened to you," she said. "I totally planned to take these things to my grave."
Jones is one of several women who spoke with Spin about the aftermath of making a public accusation of sexual misconduct by a popular musician. As the #MeToo movement has emboldened women to speak publicly about such allegations in increasing numbers, social media has made it easy for fans of the accused to insert themselves in the conversation, defending their idols or attacking and attempting to discredit the accusers. Long after the articles are published and the spotlight fades on their stories, these women often deal with a new and different wave of harassment.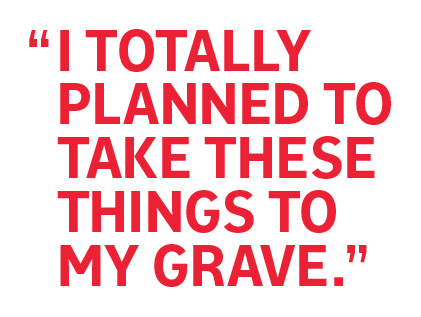 Gloria Allred, the trailblazing women's rights attorney, has represented 33 women in court who have accused Bill Cosby of sexual assault, as well as women making similar accusations against Harvey Weinstein, director Roman Polanski, and President Donald Trump. According to Allred, it's common for fans to harass those who who have been allegedly assaulted by celebrities of all kinds. "We have a cult of celebrity in this country," she said. "I have heard from so many victims that this is what they experience. It's almost shocking to me when they don't experience it. It's that common."
"The more the alleged victim reacts to it, the more it intensifies," she added. "We're in the Wild West of the internet. It's the court of public opinion. Individuals will say whatever they want about anyone they want, including people they don't know. It's brutal. That's the best way I can put it."
***
Jessicka Addams is the former frontwoman of the goth-punk band Jack Off Jill. In a public Facebook post in October of last year, Addams alleged that Jeordie White, better known as Marilyn Manson bassist Twiggy Ramirez, raped and abused her physically and emotionally when the two were in a relationship in the '90s. The stories in her post were brutal and frightening, but a Facebook message she said she received later that day was even more gruesome than what she'd written. "He said that he hoped that someone would shoot me," she said of the sender, who she believed was an angry fan of Manson and Ramirez. "And he hoped that someone would rape my dead body again."
This was the first of many messages Addams received in the ensuing months, which intensified when Manson announced he was "parting ways" with White as a member of his band several days later. The messages came via email, on Facebook and Twitter, and on the fan forum on Jack Off Jill's website. They came many times per day until beginning to taper off sometime in December, a decline Addams attributes in part to having blocked several repeat offenders. ("I have only recently been made aware of these allegations from over 20 years ago. I do not condone non-consensual sex of any kind," Jeordie White said in a statement after Addams's initial allegation.)
Not all the messages were as violent as the first, and some Jack Off Jill fans also reached out with notes of support and stories of their own experiences with abuse. But the negative messages contributed to an experience of "retraumatization," she said, many of them carrying the implication that she was lying about what happened to her.

Addams's friend Alice Glass, one half of the arty electro-pop band Crystal Castles, could relate. After realizing that they'd been through similar experiences, the two have had many conversations about fan harassment and its effects. In October 2017, Glass's former Crystal Castles bandmate Ethan Kath filed a defamation lawsuit against her that was later dismissed. The suit regarded a statement she published in the previous month, which alleged that Kath physically and sexually abused her. Shortly after publishing the statement, Glass began receiving negative messages from fans. "Fuck Alice Glass and her lies #wesupportethankath" reads one tweet from February, sent by an account with the handle @stopaliceglass. "@ALICEGLASS Yeah thanks for trying to make a career through no talent and destroying a talented musician in the process," reads another tweet from a different account. Glass declined to be interviewed for this story.
"I've been very guarded publicly about the information I've given and I haven't publicly named names—because I've been afraid," she wrote on Instagram in conjunction with her original statement. "I've been threatened and harassed, and as a result, out of fear, I've been silenced."
The conversations with Glass also led Addams to believe that fan harassment of women like her is a potentially widespread phenomenon, one that could deter other women who might otherwise come out with similar stories. "No one wants to come out and tell their deepest darkest moment and be called a liar," she said. "Fans are silencing survivors, and that's not OK. I'm still not OK from it."
***
"So while we are on the topic of outing famous and semi-famous creeps, anyone want to speak up about Jesse Lacey from Brand New?" reads a November Facebook post from Brian K. Diaz, a former guitar tech for the beloved emo band. When Nicole Garey saw the thread, she did not expect it to be shared beyond her friends and acquaintances in the punk scene. "I did not set out to tell that story at all," she told Spin, recalling her decision to leave a comment. "I didn't even know his profile was public or that it would be seen."
The story she told in the Facebook thread was about an alleged online correspondence she carried out with Lacey that began when she was 15 years old. According to Garey, the singer made frequent requests for her to send him nude photographs of herself, which she fulfilled. (Lacey was 24 at the time.) After a second woman alleged a similar experience with Lacey from when she was a minor, he published a statement that did not address the specific allegations, but apologized for having "hurt" and "mistreated" people and acknowledged an "addictive relationship with sex." Brand New subsequently canceled all of its tour dates, and Lacey has kept a low public profile since then.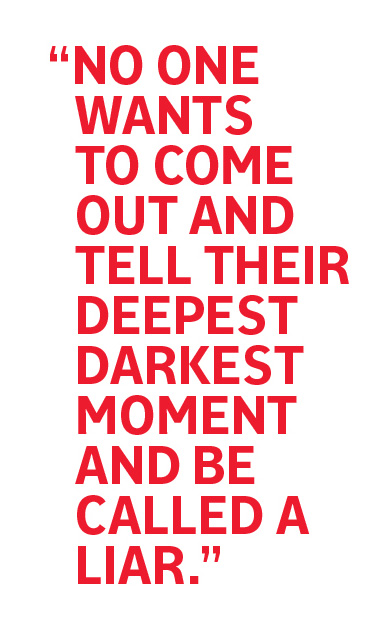 Garey soon began receiving threats and harassment from Brand New fans. The messages included things like "you should die." "Stupid stuff that I took seriously when you're in the moment," she said. "A lot of accusing me of wanting attention or wanting to ruin his life for whatever reason." Fans who were convinced she was lying found old comments she'd left on Facebook pages for other bands she likes, and replied with warnings to the band members: "Be careful, she's gonna claim you raped her."
The threats gave Garey difficulty sleeping. They made her afraid for her young daughter and paranoid in her workplace. "We had a couple of people in my office who left, and we were interviewing, and I found myself asking questions like 'Who are you interviewing?'" she said. "'How old are they? Do they look like they would listen to this kind of music?' Like, if somebody starts here—you know, a new salesperson or something—and they happen to be a fan, and they know who I am, oh my God, that's going to be awful."
***
In June, the Daily Beast and the Guardian were among several publications to run stories about a group of women who claimed that the musician William Francis was running what they called a "sex cult." Francis, who fronted the emo band Aiden before beginning a solo career as William Control, uses fetish imagery extensively in the presentation of his music. According to one woman who spoke anonymously to the Daily Beast, Control drew her into an "awful, abusive relationship under the guise of BDSM," which included non-consensual anal sex and a contract governing her behavior that he told her to sign in her own blood. The story linked to a Tumblr about Control called "Stop the Sex Cult," published by a group of alleged victims. On the Tumblr, there are photos of women with scars and bruises allegedly inflicted by him, and others with the initials "WC" tattooed onto their bodies.
"I have, in the past, engaged in heavy role play and bondage relationships WITH consent… For anyone who feels as though I have hurt them or violated their consent, I am sorry," Control wrote on Facebook after the story was published. He denied claims of abuse in an email to Spin, calling them "outright lies and false allegations."
The "sex cult" Tumblr features multiple photos of a woman we'll call Martina to protect her anonymity. In one, her eye is black and bloodied; in another, she has a scar in the shape of a W on her abdomen. Martina met Control at a concert, and was taken in by his charming, slightly intimidating personality, and by the experience of talking to a musician whose work she intensely loved.
She had not considered speaking publicly about her ensuing relationship with him until this spring, when she heard from another accuser who was organizing several women to come forward as a group via the Tumblr. She figured that multiple women telling their stories at once would be harder for skeptics to write off, and that the women could act as a support system for each other. Another upside to sharing her story anonymously from a group-run blog: There was no name or social media handle to which any angry fans could direct their complaints. 
Perhaps as a result, Martina's experiences with Control fans were more akin to gossip in a small town than direct harassment. Few negative comments were sent to her specifically, but in a community as tight-knit as the online goth and emo scene, any ambient chatter was bound to reach her. "The overwhelming amount of messages have been those of support, but the minority that supports him is a very vocal minority," she said. She noted a YouTube video titled "WILLIAM CONTROL IS INNOCENT (and here's why)," which purports to disprove the claims made by the accusers, with a detailed list of dubious "evidence" dressed up in the rhetoric of empowerment. ("It's time to speak," reads the first title card.) She also pointed out tweets like this one, which refers to the accusers as "bitches who lie."
Martina noticed that many of the accounts defending Control seemed to belong to young female fans, which complicated her feelings about their behavior. "I've clicked on the profiles, and they're basically me a couple of years ago. They don't realize that we're trying to protect them," she said. "It actually makes me a bit less angry about them calling us liars, and all of the different horrible things: attention whores, bitches. They're falling into the trap of that charm that he has. That same impulse to defend him is what allowed me to be abused in the first place."
***
Sometimes, victim harassment extends beyond the internet and into the real world. Geneva Ayala, ex-girlfriend of the late Florida rapper XXXTentacion, told prosecutors last year that he repeatedly beat and otherwise abused her while she was pregnant, accusations for which he faced multiple criminal charges. In a Miami New Times XXXTentacion profile, Ayala said that his fans began showing up every day to her job at Dunkin' Donuts after the charges were publicized, harassing her and taking photos of her until she eventually stopped working there.
In June, XXXTentacion was murdered while leaving a motorcycle dealership near Miami. Soon after, Ayala memorialized her ex-boyfriend on Instagram with a crayon drawing of the two of them together. "Now since he's gone, why don't you finally… admit all the stuff you lied about," reads one of the top comments, with over 1,000 likes. "You're the reason half the world hates him. Horrible."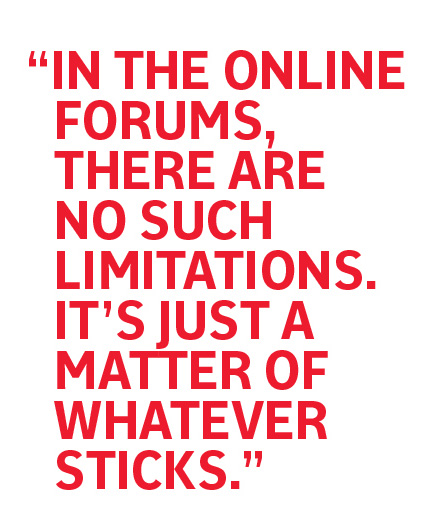 Candice Blain, an attorney who founded a firm specializing in cases of internet harassment and cyberbullying after surviving a sexual assault herself, told Spin that such harassment regularly interferes with victims' employment and personal relationships. Ultimately, "everything gets affected," she told Spin in a phone interview. "Psychologically, this is really impactful on victims."
According to Blain, people accused of abuse and their supporters regularly attempt to discredit the accusers in cases like these. Ethan Kath's lawsuit against Alice Glass claimed that she left Crystal Castles not because of abuse, but a drug problem—an allegation many of his supporters have repeated in their tweets. "Even before it was being done online, that's always the main defense," Blain said. "She's a whore, she's not credible, look at what she's done in the past, she must have been asking for it, she must have reached out to him. All these ways are used to try to show that the victim is not the victim, but is the one who deserves to be punished."
Blain pointed out that courtrooms in many states have evidentiary rules limiting what sorts of details from an accuser's past can be used against them in trial. "But in the online forums, there are no such limitations," she said. "It's just a matter of whatever sticks."
Gloria Allred concurred: "Strangers will criticize them and ask, 'Why didn't you say something earlier? Why are you saying it now?' Question their motives, 'Are you trying for fame or money?' They'll say, 'We saw a sexy picture on your Instagram, so you must have been asking for it.'"
***
After the Rolling Stone story about Kitti Jones was published in October, anonymous Instagram accounts began commenting on her posts with references to specific sex acts and locations in Kelly's house, she said. These were details she hadn't revealed to the press, leading her to believe some of the comments were coming from people with inside information about Kelly's personal dealings. A former colleague at her Dallas radio station tweeted that she was a "groupie" and "opportunist" who was getting "5 minutes of fame" by accusing Kelly of abuse.
"It was overwhelming at first, but I've learned how to deal with those things and I've learned not to invest my energy in people that don't like what I'm saying," she said. "The people that do believe me and the ones that look at me as inspiration are the ones that I channel more of my energy to now."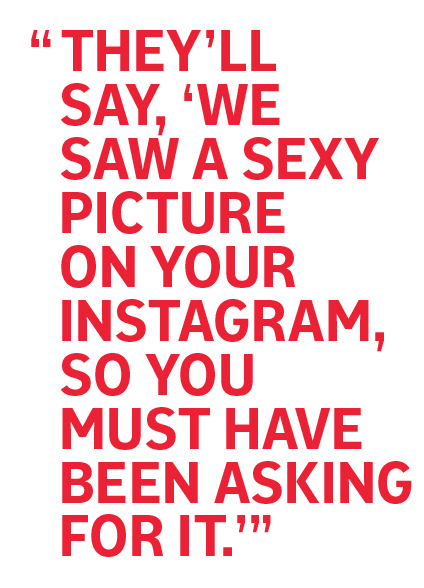 The press requests that began pouring in after the story became just as emotionally exhausting as the harassment from fans. Each time she gave an interview about her experiences with Kelly, she said, "Those are things that I'm picturing in my head and reliving as I'm describing them." Hoping to control the narrative herself, she wrote a brief memoir about her life up to and including the relationship with Kelly, entitled I Was Somebody Before This. In May, the Lifetime network announced that it would adapt the book into a film.
Jones's only regret is not coming forward sooner. "The other girls that have been abused, victims of his in the last couple of years, if I had spoken up a little sooner maybe that would never have happened to them," she said. "I think I was maybe a little bit more mature than some of the other girls, I had an established career and connections and people I could have reached out to when I got back. But I just wasn't strong enough. He had broke me all the way down."
***
The musician with the highest-profile legal battle over sexual abuse is probably Kesha, whose story illustrates why talking publicly about such abuse can be the best or only available recourse for survivors. The pop singer has been in court with producer and songwriter Dr. Luke since 2014, when she filed a lawsuit alleging that he raped her. (Luke filed a countersuit for defamation, which is ongoing.) Amendments to the suit claimed that her label Sony Music turned a "blind eye" toward Luke's alleged conduct, and that it would not promote any music she recorded without Luke's involvement.
After Kesha's claims became public, her years-long battle for the right to release music outside of her contract with Luke attracted widespread solidarity from fans and fellow artists. Last year, she released Rainbow, a triumphant third album recorded without Luke's involvement. At the Grammy Awards that followed, she performed an emotional and star-studded version of "Praying," backed by Cyndi Lauper, Camila Cabello, and others, all dressed in white. It was a clear if implicit gesture of support for Kesha from the music industry. Even Sony Music tweeted about the performance with tone-deaf enthusiasm. Though the courts have left Kesha contractually bound to Luke for now, by talking about her experience she gained control of her narrative and her musical vision. She is believed, which is what all survivors are asking for on a baseline level, and she received the kind of support that would be offered to all survivors in an ideal world.
For every case like Kesha, there are lesser-known musicians like Addams, and ensnared fans like Martina, Garey, and Kitti Jones, who are left to fend for themselves after telling their stories, without the financial stability of a pop star or the moral support of a community of influential peers. Martina believes that artists can help survivors by publicly supporting their claims, especially those in tight-knit communities such as the emo and goth scenes, and those who have collaborated with figures like Control in the past. "Silence is very, very powerful. When someone they've worked with and are promoting to their followers turns out to be an abuser, they have a responsibility to warn the young women who follow them and not stay silent," she said.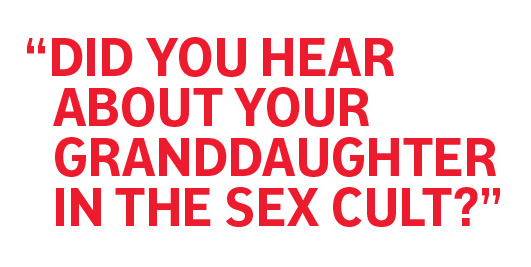 Women who come forward without a network of powerful supporters have many potential challenges to contend with apart from fan harassment. They are thrust into the public eye. Their names become briefly well-known, and permanently associated with their abusers, tied forever to harrowing experiences they'd rather leave behind. For these reasons and others—fear of retaliation and legal threats from the accused among them—anonymity can be a powerful tool. A woman we'll call Deanne, who acted as an anonymous source for an earlier Spin story about a musician who was accused of sexual misconduct, told me frankly that she "didn't give a fuck about the fans." She elected not to use her name for a variety of reasons, including emotional vulnerability and a fear of repercussions in social and professional circles that still include friends of the musician in question.
Martina was similarly frank about using a pseudonym: "I don't want people calling up my family and asking about it. I don't want people to Google me looking for jobs and seeing that. I don't want someone calling up my granny and saying, 'Did you hear about your granddaughter in the sex cult?'"
According to Emily Martin, Vice President for Education and Workplace Justice at the National Women's Law Center, accusers can also help to stave off legal threats by formulating a long-term strategy before coming forward. "It's worth taking some time to consider how to do this," she told Spin recently. "Is it a social media announcement that this happened to me? Or do I want to bring a legal complaint, find an attorney and find justice in court? Or is what I really want to do is reach out to a reporter I trust, based on reading their work, and see if they will tell the story? Those are some of the questions people can ask themselves when trying to hold their harasser accountable."
Kitti Jones, whose Rolling Stone story was corroborated by text messages and other communications from her cell phone, had another piece of advice: document everything as it's happening, even if you're not ready to leave yet. "With my friends that I would text during the time that I was with him, I would reach out and say, 'Hey, I'm hungry,' or, I would show them a bruise, or something like that," she said. "Those are the friends that once I did the Inside Edition came forward and said, 'Hey girl, I found my old phone and these text messages are there."
"Have that one person that you trust, that you can tell some of these things to," she continued. "Because if something God forbid happens to you when you're taking those beatings or getting starved—whatever may happen to you when you're having that experience with him—someone else knows what's happening. That's pretty much what saved me."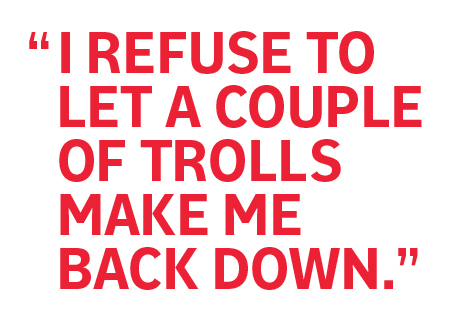 Despite the challenges, every woman interviewed for this story said speaking up was worth it. Since publishing her statement in October, Jessicka Addams has spoken at length about the online harassment with her therapist, and she now feels "better equipped" to deal with it than she did then. When asked whether she would come forward again, she hesitated for a moment. "I've gone back and forth about this," she said. "I believe that I have helped more people than have harmed me psychically. I think Alice has helped people too. We're just opening the dialogue on how fans can impede the good work of people who are coming out and telling their stories to help others. So the answer is I would do it again."
Jones also said therapy has "helped tremendously" with the pressures of the past ten months. "I'm not afraid anymore," she added. "I lived in fear for those three years. And I refuse to let a couple of trolls make me back down."
Additional reporting by Dale Eisinger.