If you enjoy weirdly hit-free pop albums, last year was a huge one for both you and Jack Antonoff, who famously helmed large portions of new and pretty goodrecords by Taylor Swift, Lorde, and St. Vincent. Will his reign of tastefully nostalgic if not exactly exciting competence ever end? It appears no!
https://twitter.com/LanaDelRey/status/1026552562789404672
Above you see Antonoff with Lana Del Rey, in a photo posted to the latter's Twitter account. Though they are dressed as if they are on their way to a celebrity-only David Byrne cosplay convention, the more obvious—and likely intended—reading of this photo is that they are working together on new music of some sort. Lana last released an album, Lust for Life, in summer 2017, and typically takes between a year or two to put out another record, so perhaps the fruits of such labor will be ripe for picking sometime soon.
What would a Lana Del Rey album produced by Jack Antonoff sound like? Well, probably like Lana Del Rey: smoldering and songwriter-y, perhaps now with a flourish of production magic akin to, say, Lorde's "Writer in the Dark." On the other hand, imagine putting "Video Games" into the hands of the guy who made Pink's "Beautiful Trauma" sound like this.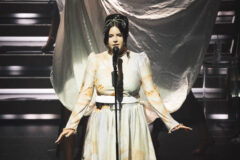 There's also the possibility that Del Rey and Antonoff are not working on music together, and that these photos mean something else entirely. We are not interested in heteronormative gossip! This is about Lana Del Rey's discography, something people care about a lot. Don't screw it up, man.