Death Cab for Cutie will release their ninth album Thank You For Today via Atlantic this Friday, August 17— just one day before the 20th anniversary of their 1998 debut Something About Airplanes. Whether the indie rock veterans are pondering lost love or gentrification, there's an underlying longing for yesterday that ties the album together, despite its title's focus on the present. The band announced Thank You For Today earlier this year, with a 30 second teaser of new music followed by singles "Gold Rush," "I Dreamt We Spoke Again," and "Autumn Love." Here's everything we know about the new album.
You can listen to Thank You For Today in its entirety ahead of the scheduled release
Although it's set to release on Friday (August 17) the album is available to stream now on NPR's First Listen. Its 38 minutes of bright nostalgia were produced by Rich Costey, who was also in charge of the previous Death Cab album, 2015's Kintsugi.
It's Death Cab's first album without Chris Walla

Founding guitarist and producer Chris Walla left the band in 2014 to work on his own projects, but still played guitar on Kintsugi. Thank You for Today will be Death Cab's first release with no trace of Walla, with touring bandmates Dave Depper and Zac Rae graduating to the permanent lineup to replace hiim. "I think we all realized that Chris was a massive part of the story of this band and an absolutely integral part of the sound of this band; from day one through to Kintsugi," frontman Ben Gibbard told DIY. "For me specifically, this is a real pivotal album for us; I think, in some ways, it's really determining the future of the band."
They sampled Yoko Ono
Lead single "Gold Rush" uses Yoko Ono's song "Mindtrain" as its centerpiece.  "I always loved the top of that song," Gibbard told NPR. "It just has such a nice bounce to it so I wrote the song around that loop. Then we were able to clear it and she gave us her blessing which is quite a trip."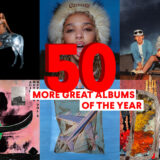 It's short enough to fit on a single LP
Bassist Nick Harmer told DIY  "we had a lot of discussions about how this was going to live outside of the studio and we just liked the idea of [the whole thing fitting on] a single vinyl. Kintsugi was three sides, so there was a blank side; you want to ask everybody, 'Who stops to put on the second disc of Kintsugi?!'" he laughs. Limiting themselves to just two sides, he added, was "about finding the songs that worked together the best."
It'll remind you of old Death Cab for Cutie
"I'm our band's biggest fan," Gibbard told Noisey. "We play all these songs live, and the songs that the fans love are usually the songs I love. A lot of that's reflected in the new album. Like, 'I want to get back to reminding people why they love the band.'" He expressed the same sentiments in the aforementioned DIY interview, saying, "This record is more in tune with the spirit of the first four albums than the last two, or even three." Translation: More Trasatlanticism and The Photo Album, less Codes and Keys and Kintsugi.
Death Cab for Cutie's new album Thank You for Today is officially out August 17. Until then, you can stream it in advance over at NPR.