In a wide-ranging new interview with The Guardian, pop super-manager Scooter Braun opened up about the trials and tribulations of working with stars like Justin Bieber, Ariana Grande, and Kanye West. Bieber, who Braun famously discovered on YouTube, has proved to be an especially challenging client. While Braun didn't provide details about Bieber's past troubles with alcohol, drugs, and the law, he hinted the situation became grave at one point: "I was not going to give up on him, I was not going to let him die," he told the paper. 
Asked about his response to the terrorist bombing at Grande's Manchester concert last year, Braun explained personal history played a role in his eagerness to stage the One Love Manchester benefit. "I wanted to fight back," he said. "My grandparents are Holocaust survivors, so I have known that kind of evil exists my whole life. My initial reaction was: 'You've fucked with the wrong person.'"
As for West, Braun provided some insight on the rapper's decision to fire him and then re-hire him in recent months. Kanye "called me up and said: 'We've had a great thing for the last couple of years. And [in] the last two weeks, I think, a lot of things have got out of hand, and we're brothers – come help,'" recalled Braun. He was diplomatic about their current relationship, noting, "We're not going to use the word 'manager' – it's not a word that he likes, nor does it really describe our relationship. I see myself as an adviser and a partner in his efforts."
Braun described West's controversial slavery comments on TMZ as a "manic moment," but added, "I'm more concerned with the president of the United States being on social media than I am with Kanye West."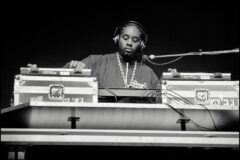 Braun remained non-committal on rumors that he's interested in running for public office himself, saying, "I still have unfinished business on the business side of my life." He concluded, "If I were to go into a public-office position, I would want to remove myself completely from the business world." Read the full interview here.