Spotify is facing controversy for hosting the podcast of conspiracy-minded right-wing radio personality Alex Jones. Several hours ago Jones posted on Twitter with a request that his fans listen to his InfoWars podcast through Spotify because "big tech giants are currently censoring us harder than ever." It's unclear when precisely the podcast was uploaded to the streaming service; hundreds of episodes are currently available.
"Infowars is on Spotify," tweeted Right Wing Watch journalist Jared Holt, shortly after Jones' post. "It is incredibly difficult to get podcasts hosted on Spotify." Various Spotify users and activists have since begun to call for a boycott of the platform. "Hey @Spotify @spotifyartists @SpotifyCares how do I go about getting my music pulled off of your service?" wrote musician @ChrisMezzolesta in response to Holt's tweet. "I can do without the extra $0.09 a year it pays me to no longer be associated in any way with destructive people like @infowars."
The consumer activist group Sleeping Giants, which has called for boycotts of companies that advertise on Breitbart, chimed in. "Holy shit. Really, @Spotify?" the group tweeted. "Alex Jones has been responsible for harassing parents of Sandy Hook children, Vegas shooting victims and threatening to kill the Special Counsel. And you're now hosting his podcasts??"
Jones has come under increasing pressure from major platforms for his controversial statements—he was banned from Facebook for 30 days earlier this month, and was issued a "strike" on Youtube around the same time. Spotify has also come under fire in recent months for the way it's attempted to moderate hot-button content. In May, the service rolled out a "hateful conduct policy," designed to keep artists accused of abuse—including XXXTentacion and R. Kelly—off of official playlists. After an outcry from artists including Kendrick Lamar, the policy was reversed several weeks later.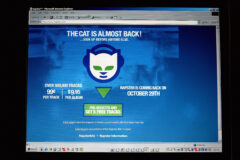 We have reached out to Spotify for comment.