Shortly after President Trump alienated most of the United States' most important allies at the G7 summit in Quebec, the commander in chief set off for Singapore where he made a new friend in North Korean dictator Kim Jong Un. On Monday night, Trump and Kim struck up a mutual admiration for each other, despite the president previously taunting the autocrat with snipes like "Little Rocket Man," and the dictator threatening to nuke the United States back to the Bronze Age.
As you can imagine, the historic meeting and the circumstances surrounding it were insanely weird. Here are a few of the most batshit occurrences from when an aspiring dictator cozied up to an accomplished authoritarian under the guise of getting the latter to de-nuclearize.
Trump played Kim a fake movie trailer the White House made casting the two leaders as heroes who bring about world peace. 
The White House produced some actual fan fiction of world peace presided over by a guy who starves his own citizens and a guy who is fine with tearing children away from their parents and tossing them into warehouses on military bases if they have an undesirable immigration status. According to BuzzFeed, Trump showed this dystopian nightmare to Kim on an iPad. Fun.
Kim practically shot lasers out of his eyes after Trump asked camera operators to make them look "nice and handsome and thin"
Trump to photographers: Are you taking good pictures so we look 'nice and handsome and thin?'

Kim Jong-un: … pic.twitter.com/9SupjgBxie

— NowThis (@nowthisnews) June 12, 2018
The two world leaders forgot to take the hangers out of their suits before posing for this picture.
Yep, that's the American flag flown next to the DPRK flag.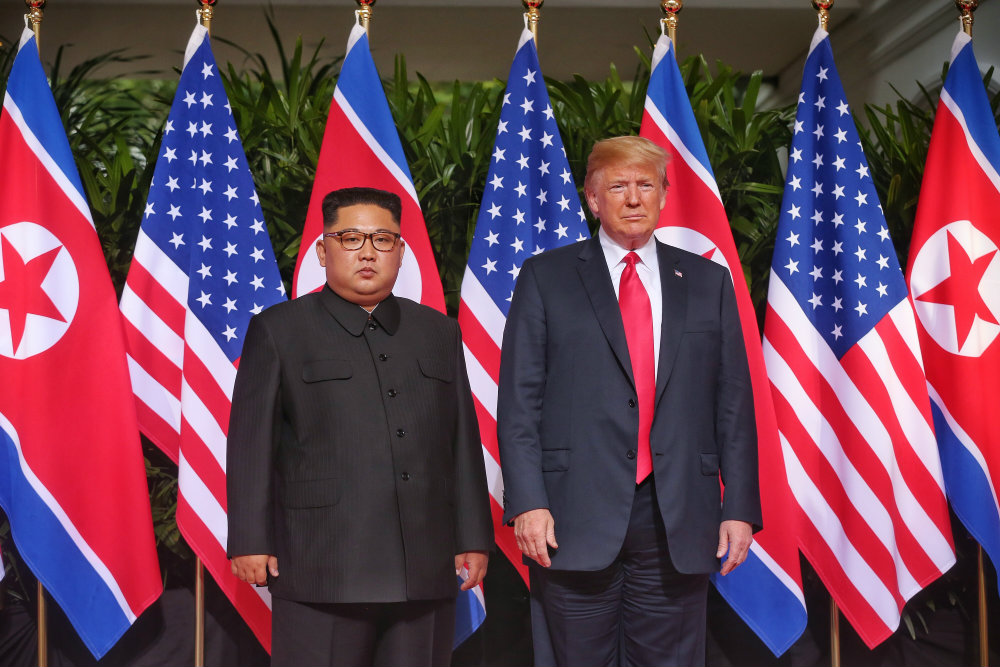 Dennis Rodman rolled into town repping a cryptocurrency site for the marijuana business and wearing a MAGA hat.
Rodman had a lot to say about the historic summit to CNN's Chris Cuomo. He also cried and thanked Eddie Vedder.
Megyn Kelly joked that he is "the Henry Kissinger of our time."
Dennis Rodman is on CNN from Singapore right now wearing a MAGA hat. "I got @PotCoin here helping me out." pic.twitter.com/GTkOBRLqfF

— Hunter Walker (@hunterw) June 12, 2018
This happened.
Trump felt the need to make this cuddly gesture towards a dude who literally had his brother assassinated with nerve agent in an airport.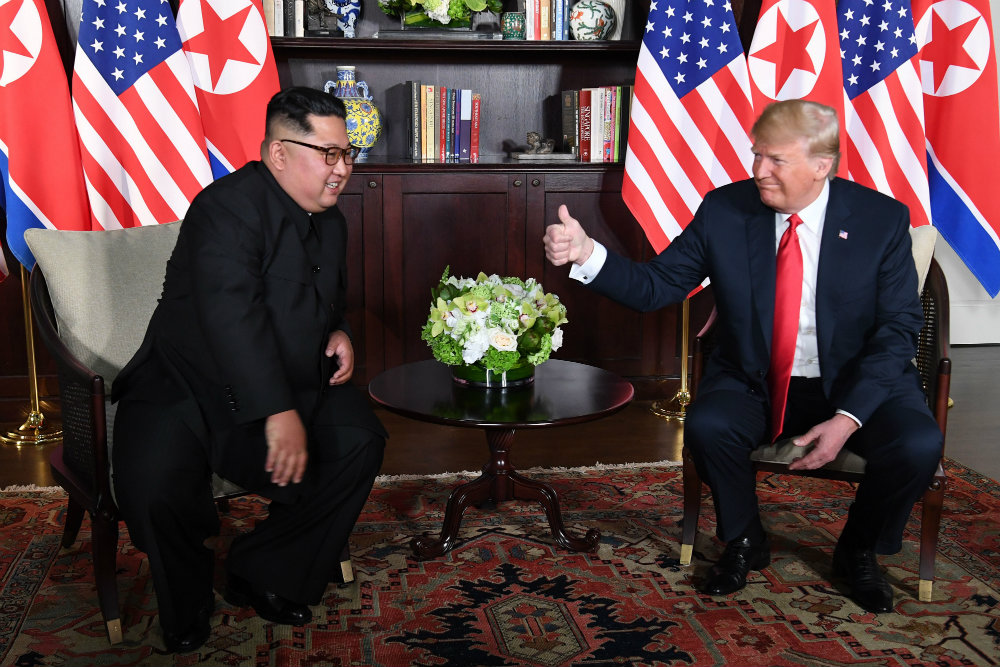 Trump admitted he won't take responsibility for the decision to meet Kim if it turns out to be "a mistake." 
In a refreshing but startling moment of honesty, the president admitted that he'll probably dodge responsibility for the summit should the relationship between Trump and Kim go sideways.
If things go well, Trump opined about how he'd love to build his tacky hotels upon North Korea's beaches. Very presidential.
Trump says he trusts Kim Jong Un. And if he's wrong? "I may be wrong, I mean I may stand before you in six months and say, 'Hey I was wrong,'" said Trump, before adding, "I don't know that I'll ever admit that, but I'll find some kind of an excuse." https://t.co/2sZ4fV3Z4H pic.twitter.com/lOVaQ0J7Xe

— CNN Politics (@CNNPolitics) June 12, 2018
Following the summit, Trump sat down with ABC News's George Stephanopoulos and touted the great love North Koreans have for their leader.
Well, the people have no choice but to love their leader given how they basically live in a gulag.
After historic summit, @ABC News' @GStephanopoulos asked Pres. Trump, "How do you trust a killer like that?"

Trump: "I'm given what I'm given, okay? I mean, this is what we have and this is where we are." https://t.co/Vkt0dIxogj pic.twitter.com/8ppDkB08Dy

— ABC News (@ABC) June 12, 2018
We've seen the future, and it's incredibly dumb.