A former collaborator has accused Talib Kweli Greene of sexual harassment, sparking an ongoing social media dispute and the revelation of an earlier breach of contract lawsuit between the two. Singer Res (full name Shareese Ballard), who's appeared on Kweli's albums and previously collaborated with him as the duo Idle Warship, was also signed to the rapper's Javotti Media label as a solo artist. Res brought their disagreement to light with a series of Friday tweets, accusing Kweli of failing to release her album in retaliation for an incident where Kweli allegedly attempted to kiss her while on a work trip.
I signed to Javotti, to release an album not to fight a lawsuit over music that is waiting to be released ,which u refused to accept.

— RES (@the1res) May 31, 2018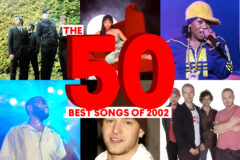 I tried to be humble but you letting a kiss that you didn't get @TalibKweli keep my career on hold and I dare you to say I'm not telling the truth you know Gmail https://t.co/02ohGszzCW wasn't you married then I'll wait

— RES (@the1res) June 1, 2018
We both have the email of you apologizing for making a pass at me @TalibKweli when we was on a trip to make music how is this in the contract why do I have to Kiss you to be out my contract

— RES (@the1res) June 1, 2018
Kweli responded by posting a page from a 2016 lawsuit between Javrotti Media and Res. (Pitchfork published the full public document.) In the suit, Javrotti alleges that Res "continually failed to show up for obligations" and did not turn in an album as required by her contract. As outlined in the suit, Res offered the song "You Don't Know Me," featuring a verse by Kweli, as a donor reward in an Indiegogo campaign she opened to raise money for her album. Javrotti then sued Res for breach of contract, claiming she did not have rights to the song and failed to respond to a cease and desist letter.
In her counterclaim, Res denies that she failed to honor obligations; on social media, she's claimed Kweli refused to accept music she turned in. Her counterclaim further alleges that Kweli "made unwanted and unprovoked sexual advances" toward her "on at least two occasions," causing her to "feel uncomfortable and demeaned," though it doesn't go into detail. Judge Carolyn E. Wade dismissed the majority of Res's claims, including the claim of sexual harassment, noting "the elements are not sufficiently pled."
Bottomline is that you create a very uncomfortable work environment from the groupies on the tour bus , to the affairs with our group member to the times you hit on me. Whether it was proven in court or not, you know what you did. You are trying to get money from me and its sad.

— RES (@the1res) June 2, 2018
Both Kweli and Res have responded to the situation on social media, each accusing the other of lying. "Res has not accepted this outcome so she is using smear tactics," Kweli wrote on Instagram, along with the excerpt of Judge Wade's ruling (below). "She is trying to use the #metoo movement to bully me into dropping my lawsuit… I fully and categorically deny any allegation of sexual harassment."
The lawsuit document also includes the text of a settlement agreement, which would require Res to repay Javrotti Media $12,000, stop using "You Don't Know Me," and cease accusing Kweli of sexual harassment. The terms of the settlement also require that both parties keep the matter confidential and "not post anything negative on any form of social media." The agreement is unsigned and doesn't appear to have gone into effect.