After landing in hot water for offensive jokes about the victims of last year's mass shooting at the Route 91 Harvest Festival in Las Vegas, NOFX frontman Michael "Fat Mike" Burkett says all of the band's U.S. shows are canceled.
"Fuck it! I'm not supposed to talk about it, but because of the comments we made in Las Vegas… every NOFX show has been cancelled in the US," Fat Mike wrote in an Instagram post last night. "We did not drop off the shows…. we were told that NOFX is not welcome to play ANY big venue in the United States. No joke! NOFX has effectively been banned in our own country. This is not our choice, but it is our reality. … We made a mistake, we apologized, and we gotta suffer the consequences." He appended the hashtag "#whendidpunkrockbecomesosafe."
Last month, viral video of a NOFX performance in Las Vegas captured Fat Mike and guitarist Eric Melvin onstage trading unfortunate lines about the October 2017 shooting, which killed 58 people. "At least they were country fans and not punk rock fans," Fat Mike said. NOFX were subsequently dropped by their beer festival sponsor and issued an apology, followed by a second, more in-depth apology. "There's no place here to backpedal," the band wrote at the time. "What NOFX said in Vegas was shameful. We crossed the line of civility."
NOFX's international dates are still on, according to Fat Mike's statement. Find the full text and his original post below.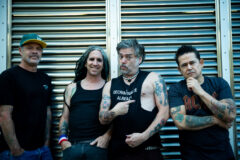 Fuck it! I'm not supposed to talk about it, but because of the comments we made in Las Vegas… every NOFX show has been cancelled in the US. We did not drop off the shows…. we were told that NOFX is not welcome to play ANY big venue in the United States. No joke! NOFX has effectively been banned in our own country. This is not our choice, but it is our reality. We are very sorry to our fans, especially the ones in Austin. For now, we are playing in Europe, Mexico, and Canada. The Punk in Drublic Festival is still happening in Europe and other continents. I'm trying my best to bring it back to the US but a lot of people don't want it to happen. It fuckin sucks! We made a mistake, we apologized, and we gotta suffer the consequences. Maybe it ain't fair, but whoever said life was. We are just very thankful that our fans are being so supportive. Thanks to all of you!!!!! See y'all in Slovenia tomorrow!
#punkindrublicinternational
#whendidpunkrockbecomesosafe
#IhatednotbeinginOhio