On April 19th, Kanye West took to Twitter to announce that several albums he was working on would be released in June, including his eventual solo album ye. Another was a collaboration with Kid Cudi that he called "Kid See Ghost." You might not have noticed at first, but there is no "s" at the end of ghost, implying a singular ghost that the kids see. You would be forgiven if you didn't catch it; we didn't and neither did other media outlets. But there it is from Kanye himself: Kids See Ghost. And acccording to a Pitchfork report, Kanye even filed a trademark for the name "Kids See Ghost," so that should settle any confusion on what the album's name is —unless of course that isn't actually the name.
it's called Kids See Ghost. That's the name of our group

— ye (@kanyewest) April 19, 2018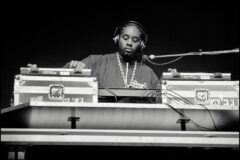 Later that month, Kanye showed a few Takashi Murakami-inspired pieces to mark the collaboration with Cudi and you can clearly see from the images the words, "Kids See Ghosts" written out. This would imply that Kanye misspok/wrote earlier, and that the plural version is the actual album title.
— KANYE WEST (@kanyewest) April 21, 2018
Murakami vibes pic.twitter.com/T0H74MSyB7

— KANYE WEST (@kanyewest) April 21, 2018
Earlier this week, Cudi confirmed as much when he shared the official Kids See Ghost(s) album cover by Murakami and called it "Kids See Ghosts."  This, however, contradicts a tweet made the day before by Cudi's manager, Dennis Cummings, about the two rappers' album listening party scheduled to take place in LA, wherein he calls the record "Kids See Ghost."
KIDS SEE GHOSTS ALBUM ART pic.twitter.com/MVt5vIzlA1

— The Chosen One (@KidCudi) June 6, 2018
Kids See Ghost listening party in LA🌹🌹🌹

— Dennis Cummings (@Shift_leader06) June 5, 2018
Cudi doubled down today though, tweeting a link for fans to use to watch the album listening livestream tonight and continuing to call it "Kids See Ghosts."
Download the @WAV_Media app https://t.co/tSKPugfNlF to watch the livestream of the KIDS SEE GHOSTS listening event on Thursday, June 7 at 8PM PST

— The Chosen One (@KidCudi) June 7, 2018
So what exactly is the correct album title? It seems that neither Kanye nor Cudi can decide on how many ghosts are being seen. This is similar to Frank Ocean's Blonde/Blond confusion, in which the physical album cover read "Blond" while the official listing on iTunes and streaming platforms called the record "Blonde," seemingly on purpose to highlight both the masculine and feminine connotations of the word.
The Kanye-Cudi issue, however, seems more borne out of indecisiveness or a lack of clarity. If you were to investigate the Murakami and Murakami-inspired images for clues, you may notice that in the early one Kanye shared, there are two kids with one ghost —a point for "Kids See Ghost." But there are two ghosts on the album's official cover, countering that theory.
Looks like we won't have a definitive answer on how many ghosts those kids see until later tonight, when Kids See Ghost(s) officially drops. Spooky…