Ariana Grande is gearing up for the release of her fourth album Sweetener, expected out on August 17. It's her first full album in two years, following up 2016's Dangerous Woman, and while we don't yet have an official track list, Grande has been generous with hints and previews. Here's everything we know about the new album so far.
Sweetener is Grande's first release since the Manchester Arena bombing
On May 22, 2017, a bomber detonated an explosive in the lobby of Manchester Arena in Manchester, England just after an Ariana Grande concert. Twenty-two people were killed and more than 500 were injured. In response, Grande first canceled some European concerts, then changed her mind: According to manager Scooter Braun's recent interview with Time, she decided, "If I don't do something, these people died in vain." Grande went on to organize the One Love Manchester benefit concert on June 4, 2017, performing alongside stars like Justin Bieber and Coldplay and raising millions in donations for victims and their families. The show culminated in a performance of My Everything single "One Last Time" and a powerful, stripped-back performance of "Somewhere Over the Rainbow." Grande was subsequently named Manchester's first honorary citizen.
Grande began work on Sweetener back in 2016
Following One Love Manchester, Grande took a hiatus from the spotlight; recent interviews with Time and the Fader were her first in months. Although she told Fader that sessions for the album began in 2016, it's clear the finished product was influenced by the tragedy. "In all honesty, I feel like [after Manchester] was when different people from the record company actually started to understand what we were trying to do," co-producer Pharrell said. "It's unfortunate that that situation is what gave it context, but they were able to really see [what we were going for] then." Grande's post-Manchester music, including closer "Get Well Soon," is set to strike a balance between emotion and her usual pop style. As she put it: "I've always just been like a shiny, singing, 5-6-7-8, sexy-dance…sexy thing. But now it's like, 'OK … issa bop—but issa message. Issa bop but also has chunks of my soul in it.'"
First single "No Tears Left to Cry" was produced by Max Martin
"No Tears Left to Cry" was produced by "Into You" collaborator and pop music deity Max Martin, who reportedly helms about half the album. Though "No Tears" had every reason to be a downtrodden ballad, Grande told Time she deliberately avoided gloominess: "I don't want to give [the attack] that much power," she said. "Something so negative. It's the absolute worst of humanity.""No Tears Left to Cry" peaked at #3 on the Hot 100 and currently sits at #9 after two months, likely giving it staying power through the summer. The song also received a surreal and visually striking music video, directed by Dave Meyers (Kendrick Lamar, Maroon 5, Katy Perry).
"God Is A Woman" is the (official) second single
Next up is Max Martin cut "God Is A Woman," released on July 13. Grande teased the lyrics in a series of tweets: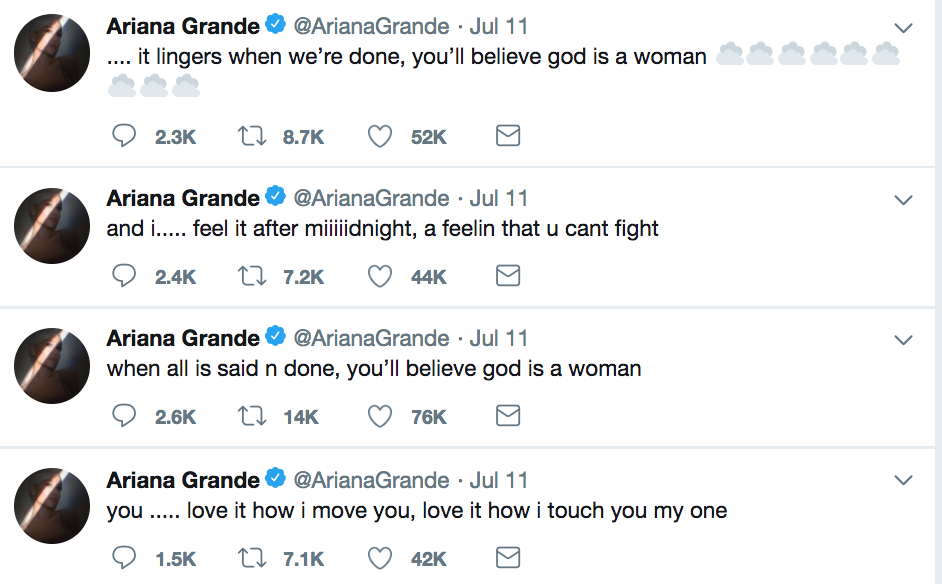 favorite song on Jimmy Fallon. In Elle magazine, writer Katie Connor notes that, despite the song's saintly title, it is "more about taking agency in the bedroom than at the office." Connor also notes that the Vera Wang dress Grande wore to the Met Gala earlier this year, inspired by Michelangelo's The Last Judgement, is meant to be "a hint, a foreshadow" of the "God Is A Woman" video.
Grande also worked with Pharrell on promotional track "The Light is Coming"
Pharrell is handling the production on several other songs, including eccentric Nicki Minaj-featuring single "The Light Is Coming,"  which received a video also directed by Dave Meyers. Speaking with the Fader, Pharrell described his role as "part listener, part therapist, part stenographer." "The Light Is Coming" features a sample from the late U.S. Senator Arlen Specter, whom Pharrell also sampled on last year's "Lemon" with Rihanna. Grande previously collaborated with Minaj for 2016 hit "Side to Side," and they teamed up again for recent song "Bed," set to appear on Minaj's upcoming album Queen.
Other song titles include "R.EM." and "Better Off"
Producer Tommy Brown, who's worked with Grande since the Yours Truly days, is producing a ballad called "Better Off." There will also be a cover/remix of Imogen Heap's  "Goodnight and Go,"   song Grande has long admired. Expect some empowerment anthems too, with "Successful" concerning "girls feeling good ab their own individual success / celebrating each otha / flexin n shiiiit" and "Get Well Soon," the first song teased from the album, about Grande's struggles with feeling outside her body following the attack in Manchester. In Elle, she elaborated on the song's construction: one of the Pharrell cuts, "Get Well Soon," depicts "all the voices in my head talking to one another," telling her, 'Girl, what's wrong with you? Come back down.'"
On June 26, Grande took to Instagram to preview "Raindrops" (below), which interpolates Frankie Valli and the Four Seasons' "An Angel Cried." She also previewed a new song called "R.E.M." in a game with Elle.
ɹǝuǝʇǝǝʍs 🌫 https://t.co/kgaHLW2iQa pic.twitter.com/JOyKQL2iup

— Ariana Grande (@ArianaGrande) June 26, 2018
There's a song about Pete Davidson called "Pete"
Grande's whirlwind romance with her new fiancé, Saturday Night Live's Pete Davidson, has snagged almost as many headlines as her album rollout—but Davidson is on the album too, in a sense. Sweetener features an interlude track titled "Pete," a fact Grande recently revealed to fans on Instagram. She's continued to play into fan interest in both her new music and her new relationship, including a cheeky tweet about the length of the track.
This era of Ariana Grande is uʍop ǝpᴉsdn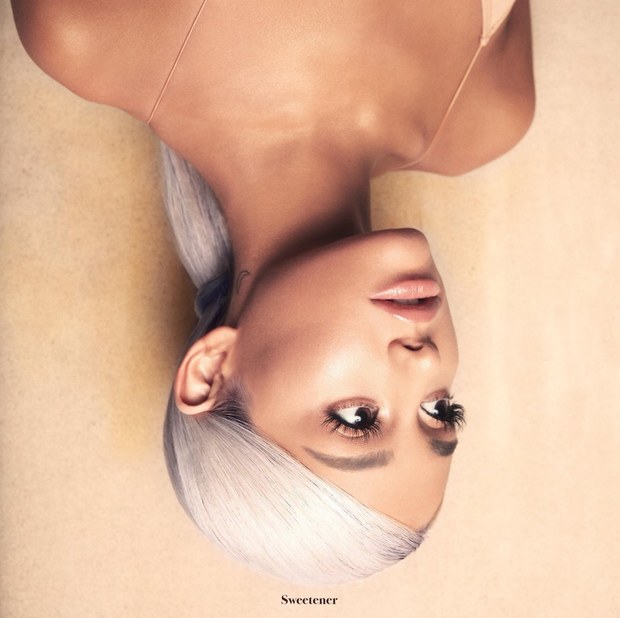 pair of recent tweets, Grande described the new look as appropriate, writing that "at the time i had been feeling v 'upsidedown' for a while" but she's now in a "new chapter" where "for the first time my life is in color as well."
Ariana Grande's new album Sweetener is scheduled for release August 17 via Republic Records.
This article has been updated with new information as of July 12.