Last week, we learned Frances Bean Cobain's ex-husband Isaiah Silva filed a civil suit against Courtney Love, her business manager Sam Lutfi, 13 Reasons Why actor Ross Butler, and several others, alleging a conspiracy to assault, kidnap, and attempt to murder him—all over the contested ownership of the 1959 D-18E Martin guitar Kurt Cobain played at Nirvana's 1993 MTV Unplugged appearance, the value of which the family apparently believes to be in the millions. If that sounds like an awful lot to believe, buckle in: Spin has reviewed the full suit, retrieved from publicly available Los Angeles court records, and the story it lays out is more jaw-dropping still.
Silva's full lawsuit runs to more than 300 pages of material, describing startlingly personal details of family drama and allegations of drug abuse, impersonation attempts, and harassment. (The mother of Silva's child from a previous relationship has filed her own civil suit, accusing Love and Lutfi of stalking and harassment.) As detailed in his suit, Silva claims Cobain gave him the Martin guitar in January 2014 as an engagement gift ahead of their wedding. Love has publicly contested that, telling TMZ in 2016 her daughter meant to do no such thing and that the guitar was "not [Silva's] to take." Love has not responded publicly since news of Silva's suit broke last week. (Spin has reached out to Sam Lutfi and a representative for Courtney Love for comment.)
Here are five things we learned from reading Silva's lawsuit, including the murder conspiracy theory Kurt Cobain's own mother allegedly believes. We've redacted the name of Silva's minor child from the lawsuit excerpts.
Sam Lutfi allegedly supplied drugs to Courtney Love and Frances Bean Cobain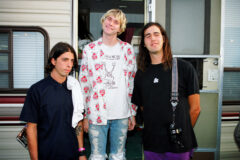 Sam Lutfi, listed in legal documents as Osama Lutfi, is somewhat notorious in the entertainment industry as the former manager of Britney Spears and a frequent target of legal action; Spears eventually obtained a restraining order against him. Isaiah Silva's lawsuit sets out countless allegations against Lutfi, including accusing him of supplying Courtney Love and Frances Bean Cobain with "narcotics and illicit benzodiazepines." According the suit, Love, Lutfi, and Cobain referred to the drugs as "cookies" and replenishments as "refilling the cookie jar."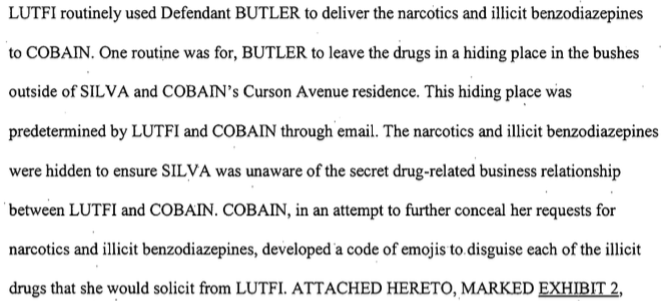 Frances Bean Cobain struggled with a serious drug addiction that allegedly almost killed her
Silva's lawsuit describes Frances Bean Cobain's struggle with drugs, accusing Lutfi of "exploit[ing] the addiction he encouraged and fueled" in order to "manipulate" her. In one alarming passage, the suit recounts a November 2014 incident when Cobain allegedly experienced a convulsive seizure and appeared to stop breathing, but revived after Silva performed CPR. Earlier this year, Cobain posted to Instagram in celebration of her second anniversary of sobriety, writing, "The fact that I'm sober isn't really public knowledge, decidedly and deliberately. But I think it's more important to put aside my fear about being judged or misunderstood or typecast as one specific thing."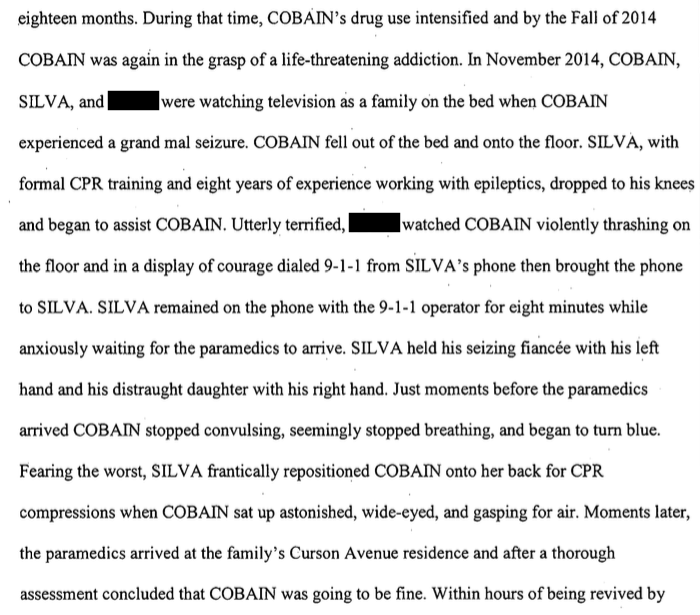 The alleged kidnapping of Isaiah Silva sounds like something out of an action movie
The core accusation in Silva's suit goes like this: Shortly after midnight on June 3, 2016, Silva alleges that Lutfi, actor Ross Butler, and another man, Yan Yukhtman, broke into the house he'd previously shared with then-estranged wife Frances Bean Cobain in an apparent attempt to take Kurt Cobain's Martin guitar. Lutfi and crew allegedly beat and groped Silva, stole his phone, then dragged him into a waiting Escalade and drove away.
What they hadn't counted on, the suit suggests, was that Silva wasn't alone: A visiting friend ran out of the house, called 911, and parked his own car in the street, blocking the only exit from the dead-end road. "Within minutes, an LAPD helicopter was overhead and police cars rushed to the area," the suit reads. No arrests were made, it continues, because Lutfi "warned Silva that he, Love, and Cobain owned the judicial system, the LAPD, and the media, so no one would believe Silva." Silva claims he agreed under pressure from Lutfi to tell police the whole thing was "a prank" gone wrong. (Radar Online previously published a police report stemming from the alleged kidnapping.)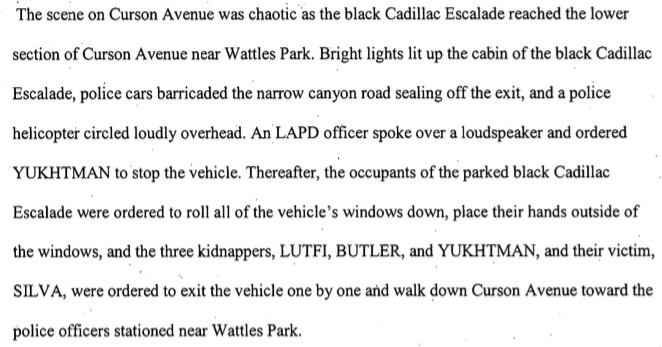 Isaiah Silva claims there was a conspiracy to make him appear suicidal
"Were it not for the intervention of [Silva's friend] and LAPD, it is believed … Silva would have been taken to a secondary crime scene and murdered on June 3, 2016," Silva's suit claims. "Lutfi, Love, and their coconspirators went to great lengths to create the impression that Cobain's soon to be ex-husband (Silva) was depressed, drug addicted, on the brink of committing suicide, and had recently inquired about where to obtain a firearm." Silva claims he wasn't suicidal and only considered purchasing a gun years earlier, after a widely reported 2012 incident in which a homeless man (described in the the suit as a "mentally unstable Nirvana fan") broke into his and Frances Bean's house. But prior to the alleged attempt on his life, Silva's suit claims someone "hacked" his iMessages in order to text falsified suicidal remarks to a friend, an episode Silva says he found so unsettling he reported it to police.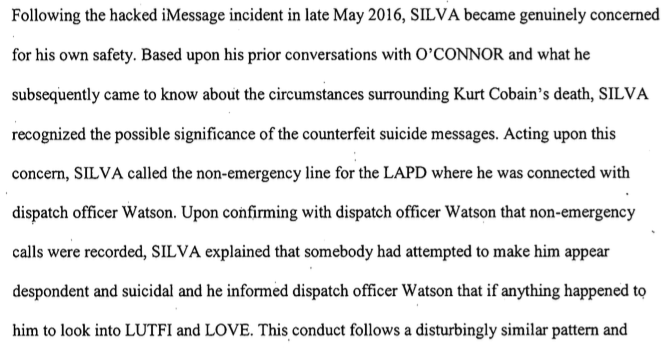 Silva claims Kurt Cobain's mother believes her son may have been murdered
Are Silva's allegations of a cover-up plot ringing conspiracy theory bells yet? In one section of the suit, Silva claims that Kurt Cobain's mother, Wendy O'Connor, warned him in 2015 "that she believed Love to be involved in the alleged suicide of her son." According to Silva's suit, O'Connor was unhappy with her own participation in the Cobain documentary Montage of Heck and instead urged Silva to watch the controversial film Soaked in Bleach. Love has accused Soaked in Bleach of defamation because, in her lawyer's words, it "presents a widely and repeatedly debunked conspiracy theory that accuses Ms. Cobain of orchestrating the death of her husband Kurt Cobain."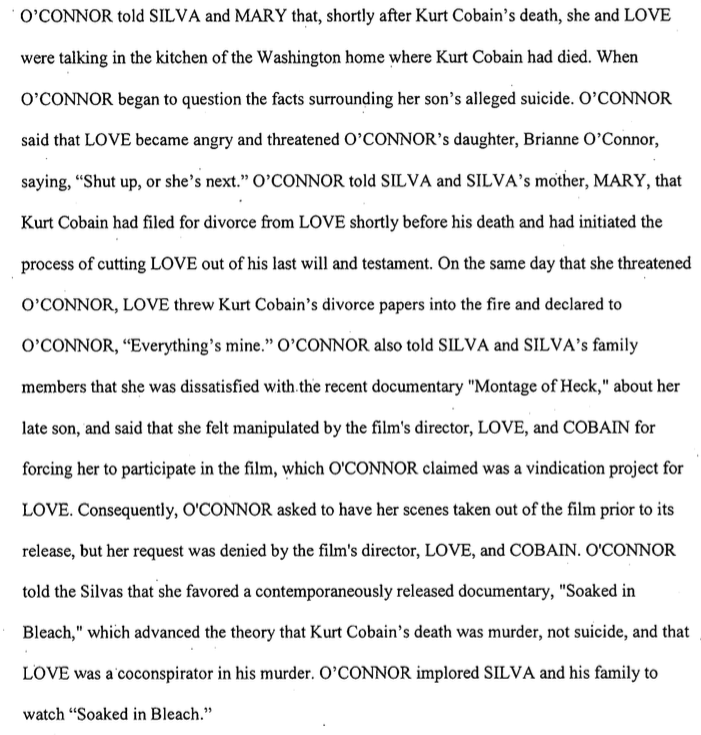 Billy Corgan makes an appearance
The Smashing Pumpkins frontman isn't accused of any wrongdoing and doesn't appear to be directly involved in Silva's allegations, but his name does come up. According to the suit, Corgan had hired Silva's friend, the drummer Robin Diaz, and Lutfi later name-dropped Corgan in order to "threaten and harass" Diaz to reveal information about Silva: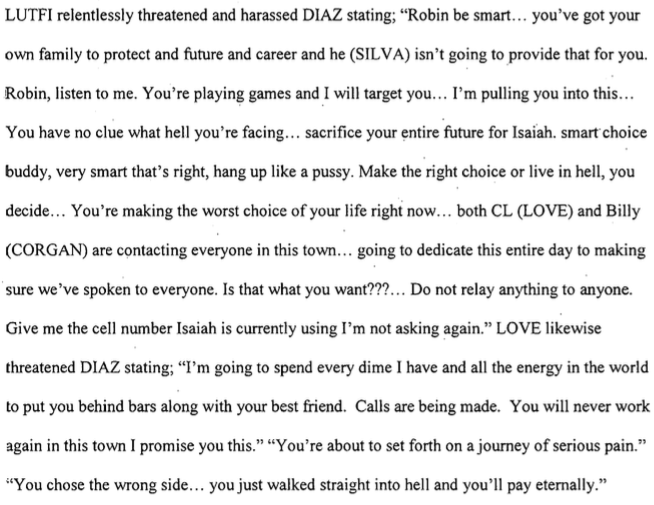 How much of this story is true? That remains to be seen, though we do know that Silva recently succeeded in claiming ownership of Kurt Cobain's 1959 Martin guitar, the instrument that's apparently brought everyone he knows to so much grief.
Read an extended excerpt of Isaiah Silva's lawsuit against Love, Lutfi, and others below.
Silva vs Love et al (partial) by Spin on Scribd