NOFX are making news in the year 2018 because of some ill-advised stage banter regarding the Las Vegas shooting during their Punk Rock Bowling & Music Festival set in Las Vegas on Sunday. According to footage shared by X1075 DJs Dave Farra and Jason Mahoney, the offending exchange looks like it takes place between NOFX frontman Fat Mike and guitarist Eric Melvin. The footage was picked up by TMZ on Wednesday.
It starts with Fat Mike saying "We played a song about Muslims and we didn't get shot. Hooray." Then Melvin responded "I guess you only get shot in Vegas if you are in a country band." Fat Mike then finished the bit with "at least they were country fans and not punk rock fans." Some audible groans picked up on the video suggest that the joke didn't go over well with the crowd.
Fat Mike came back with "you were all thinking it!"
The Southern California punk band is known for reveling in its own tastelessness, but this wasn't a good look, kind of like how it wasn't a good look for the band to create all access passes with Bill Cosby's photo during the Fat Wreck Chords 25th anniversary shows in 2015.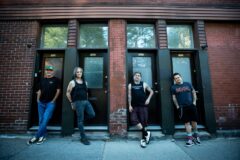 NOFX thought it would be "hilarious" to joke about the October 1 shootings while on stage in Las Vegas. They said "at least they were country fans and not punk rock fans". This is disgusting and callous. We will never support anything involving this band ever again. pic.twitter.com/am3R8QJIE6

— Dave and Mahoney (@DaveAndMahoney) May 30, 2018
The NOFX members were referencing the Route 91 Harvest Festival shooting which left 59 people dead and over 500 injured in October 2017.