Among the manyfold absurdities of the Met Gala's media prominence: For vast majority of us, fashionable entrances are the main event, and once the red carpet parade is over there's not much left to see. Rumor has it even some celebrities find the remainder of the evening "tedious." But whether fascinated or bored, humans of all fame levels reach for their phones when they see Madonna. Here's a quick look at a few things that happened inside last night's ball, including a Nicki Minaj/Cardi B summit and cameo appearance by Nick Cave.
Madonna performed
As had been rumored, Madonna gave a surprise after-dinner performance on the Met stairs. Befitting the event theme, "Heavenly Bodies: Fashion and the Catholic Imagination," she sang "Like a Virgin," then segued from the mildly profane to the more sacred with a cover of Leonard Cohen's "Hallelujah." The performance featured two additional gowns, four white-clad dancers, and a phalanx of backing singers in monks' robes. Here's a sampler video put together by Vogue:
A dramatic transition pause between the songs found Madonna lying on the steps, where she received a friendly heckle from Tiffany Haddish:
//cdnapisec.kaltura.com/p/591531/sp/59153100/embedIframeJs/uiconf_id/6740162/partner_id/591531?iframeembed=true&playerId=kaltura-player-9999999999-85983811147217220&entry_id=0_jdnllkf9
And here's a little bit more of "Hallelujah":
Nicki Minaj and Cardi B are cool
Nicki Minaj may have been "really, really hurt" by Cardi B's reaction to their collaboration with Migos on "Motorsport"—but it doesn't seem like the feud sparked serious hard feelings, because the two were spotted chatting inside last night's gala. That's Cardi's dress designer, Moschino's Jeremy Scott, looking on in the background.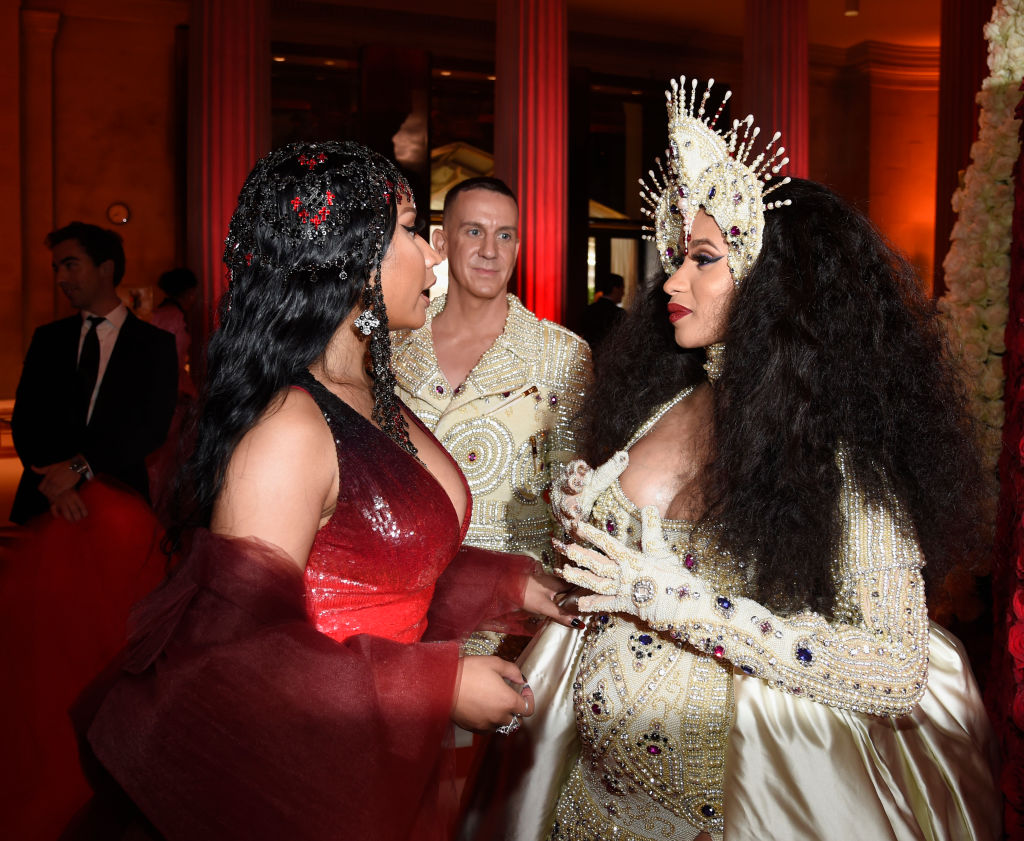 For the gram
Another quirk of the Met Gala: professionally shot videos of celebrities wearing ball gowns and dancing in museum galleries. Below, check out Rihanna with some Greek and Roman statuary and Lana Del Rey with some European paintings. Katy Perry, Nicki Minaj, SZA, Ariana Grande, and Miley Cyrus each did one, too.
Elon Musk and Grimes were there
As reported by Page Six yesterday, Elon Musk and Grimes are an item now, and the apparent couple made their public debut at the Met Gala. Technically this clip is from outside the event, but here's a video of them in action:
Beyoncé was not there
This year's most notable Met Gala absence: Beyoncé. An anonymous source tells ET that Beyoncé had a custom dress designed for the occasion, but opted not go to after Jay-Z surprised her with a vacation getaway ahead of the couple's On the Run II tour, which kicks off next month. Beyoncé last attended the Met Gala alone in 2016; perhaps she and Jay just didn't feel like returning to the scene of 2014's infamous afterparty elevator incident.
Nick Cave was there
Under-reported but true: Nick Cave attended this year's Met Gala with his wife, designer Susie Cave, whose fashion line is called The Vampire's Wife. Obviously, they looked the part.