In all likelihood, Kanye West's new album will be coming out at midnight tonight. But a crowd of lucky journalists, DJs, miscellaneous fashion people, podcast hosts, bloggers, artists, designers, photographers, filmmakers, producers, and "influencers" and "creatives" not covered by the above descriptors will get to hear the album very slightly early, because Kanye West is flying them to Wyoming on private jets for a listening party. This all seems very expensive:
Next stop Wyoming ✈️⛰ pic.twitter.com/JSGR0A84Ev

— DJSemtex.eth (@DJSemtex) May 31, 2018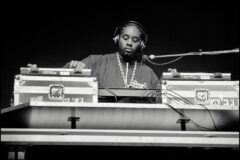 Destination: Wyoming….

Follow our journey on our Instagram Stories: https://t.co/alE2Vzw9d1#Kanye countdown ⏲ pic.twitter.com/1vJ44oIjUu

— HYPEBEAST (@HYPEBEAST) May 31, 2018
Flying Air Ye to Wyoming ✈️ pic.twitter.com/CWvoadycB4

— 40 (@40oz_VAN) May 31, 2018
https://twitter.com/YesJulz/status/1002234901121286144
Why the fuck are we in Wyoming

— adam22 (@adam22) May 31, 2018
Why indeed, @adam22. It would be easy for us to cast aspersions at the people who are flexing on social media about going—this is the same Kanye who came out as a Trump supporter little more than a month ago, after all, and do you really care that much about getting his latest MAGA thoughts literally a few hours before they become available to everyone else on Spotify?—but then we'd just look bitter about not getting an invitation ourselves. More importantly, why is Kanye spending the many thousands of dollars it must surely cost to fly all of these people in on multiple private planes? It just seems like the money would be better spent on studio time, or licensing an extremely pricey photo to use as album art at the last minute, or flying us out there instead.