J. Cole sat down with Power 105 radio personality Angie Martinez for an interview about the success of his new album, as well as meditation, social media addiction, Kanye West, and beefing with Soundcloud rappers. The sprawling 90+ minute sit-down is one of the few interviews Cole has given in the past few years and he had a lot to say.
On the topic of his distance from social media, he compares his time on there to a similar alcohol problem he had and the pull he felt to return to drinking. "With social media, I was off it so long that I thought I had beat this addiction. Then I got back on it and I realized, 'Oh nah, you just took a break.' I didn't face it head on… I'm dealing with it right now."He continued on, "I feel like with social media, it's like, what's this pull? Why do I keep checking this shit every five minutes? …Just being conscious that there's an urge to be on my phone. I don't like something pulling my strings. I want to be in charge of my own decisions."
The two also talked about the recent behavior of Kanye West and a phone call between the two, a screenshot of which Kanye posted to Twitter. "That made me feel a certain type of way. I told him that," Cole said. "He apologized, for the record. I told him that it felt like you just used my name in that very quick conversation for social media and to keep your thing going, whatever you were doing. It just felt like it wasn't sincere because of that."
He added: "When he called me he said, right off the rip, 'Man, I need you to hold me accountable. Keep me in check. Say whatever you gotta say. I need that. I feed off that.'"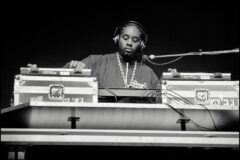 Cole is careful not to bad mouth West, but makes it clears that he has a lot of problems with what West has been doing. "I feel like he's really good at sampling language that will resonate and it just so happened that this time he sampled the wrong shit," he said. "When you come and you like, empower a demographic of people –their whole intent is to suppress people and oppress people, it's like bro, I can't rock with that."
Cole spoke on another issue with rappers and perceived rap beef, discussing the Soundcloud scene that many have attributed his album as a callout of and the "Fuck J Cole" chants that have happened at shows like the rapper Smokepurpp's. Coles told Angie about going on the podcast No Jumper and running into fans of that music who claimed to hate him, stating "I had to go see how real it was… I go in there just to see what it is in person. And everybody in there was like, 'Oh, shit. J. Cole. I love your shit.'"
On a lighter note, Cole also talked about getting a text from Drake that said "I hate you," after breaking the record for most streams of an album 24 hours after its release. The new record smashed Drake's streaming performance for Views, which held the record previously. As for any bubbling excitement for an old rumor about him and Kendrick Lamar making an album, Cole mostly squashes it. "We just did a few songs. Like, we did a bunch of ideas. Put it like that. It was nothing like, you wouldn't call it an album. It's not like it's something that's actively happening."
You can watch the full interview below.