On Thursday night, Pusha T released his new album Daytona, which featured a song called "Infared" wherein the G.O.O.D. Music rapper takes shots at Drake and Lil Wayne. Less than 24 hours later, Drake has responded with his own diss track called "Duppy Freestyle." The track hilariously features Drake feigning exasperation and annoyance that he has to respond to Pusha's "audacity" and "nerve," before laying into the G.O.O.D Music president Kanye West. Drake uses the jazzy instrumental of the song to question Pusha's authenticity ("You don't rap what you did, you just rap what you knew") and his status within his own label ("You not even top 5 as far as your label talent goes"). Drake also takes on accusations that he uses a ghostwriter by alluding to the fact he has written for Kanye: "What do you really think of the nigga that's making your beats?/ I've done things for him I thought that he never would need/ Father had to stretch his hands out and get it from me."
Speaking of the ghostwriter rumors, Drake also saved some room to talk about Quentin Miller, the young Atlanta rapper who Meek Mill claimed wrote many of Drake's raps. "As for Q, man I changed his life a couple times/ Nigga was at Kroger working double time/ Y'all acting like he made the boy when I was trying to help the guy," Drake says in the song. (That's honestly a tough break for Quentin there.) The track works as good promo for both Pusha T and Drake—the latter is prepping for the June release of his new album Scorpion, as well as a summer tour with Migos.
Listen to the new song below: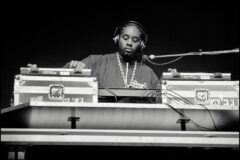 Update 5/26 9:45am: In the freestyle, Drake raps, "Tell 'Ye we got an invoice comin' to you/Considering we just sold another 20 for you." Now Drake has posted a photo of an actual $100,000 invoice on Instagram, allegedly billing the G.O.O.D. Music rappers for "promotional assistance and career reviving." Check it out below.