On May 18, 2017, Soundgarden and Audioslave frontman Chris Cornell died at the age of 52. His death was officially ruled a suicide by hanging after he was discovered on the floor of a Detroit hotel room with an exercise band around his neck while touring with Soundgarden. According to the police report, Cornell's wife Vicky said that her husband was slurring his words, which he blamed on taking Ativan prescribed for anxiety. A toxicology report found several prescription drugs in Cornell's system, suggesting that the longtime sober musician had relapsed. At his funeral, Cornell's close friend, Linkin Park frontman Chester Bennington sang "Hallelujah." Sadly, Bennington took his own life less than two months later on what would have been Cornell's 53rd birthday.
Cornell first achieved fame in the early '90s as the frontman of Seattle grunge band Soundgarden and co-singer with Eddie Vedder in their one-off project Temple of the Dog. Soundgarden's landmark 1991 album Badmotorfinger introduced Cornell's distinctive four-octave howl to a new a wide audience before the success of the followup album, 1994's Superunknown sent the band, and Cornell, rocketing into superstardom.
In the late '90s, Cornell established himself as a solo artist and in 2002 formed the supergroup Audioslave with Rage Against the Machine guitarist Tom Morello. He is considered by both fans and peers to be among the most iconic and influential rock vocalists of all time.
Tributes and Features  25 Years of Talking to Chris Cornell for Spin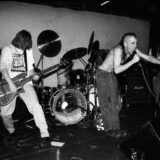 Revisiting Chris Cornell Through His Most Memorable Musical Moments
Tom Morello, Serj Tankian, Trent Reznor and Others Recall Final Interactions With Chris Cornell
Here Is a Great Story About the Time Chris Cornell Wore a "Black Hole Sun" Costume To a Halloween Party
Chris Cornell Digs Up Soundgarden's Roots With Marc Maron
Chris Cornell's 2006 Interview on Audioslave, Addiction, and Reinventing Rock
The Rusty Cage: Chris Cornell Talks Euphoria Morning in 1999 Interview
Northwest of Hell: Spin's 1989 Soundgarden Profile
Superwellknown: The 1996 Soundgarden Down on the Upside Cover Story