Dream-pop superstars Beach House have a new album, 7, arriving May 11. The latest from Victoria Legrand and Alex Scally is a follow-up to 2015's Thank Your Lucky Stars and is named 7 because—well, mostly because—it is the band's seventh album. It is also their first record to be self-produced, along with live drummer James Barone and producer Peter Kember (a.k.a. Sonic Boom, formerly of Spacemen 3). A press release describes 7 as a record that "explores glamour and its underbelly," which doesn't say much but certainly is provocative. Here's everything we actually know about 7 ahead of its release.
There are four singles  
There are currently four official singles from the album: "Lemon Glow" was the first, released with a hypnotic, black-and-white mosaic visual on YouTube that's not quite as appealing as the actual ambient tune. Then came "Dive" and "Dark Spring," the latter of which Beach House described as tackling "the empathy and love that grows from collective trauma" and "the beauty that arises in dealing with darkness." The last single, "Black Car," was released just last week. Only "Dark Spring" received a music video; watch that below.
There are 11 songs
The official tracklist for 7 is:
1. "Dark Spring"
2. "Pay No Mind"
3. "Lemon Glow"
4. "L'Inconnue"
5. "Drunk in L.A."
6. "Dive"
7. "Black Car"
8. "Lose Your Smile"
9. "Woo"
10. "Girl of the Year"
11. "Last Ride"
It's Beach House's first new album since their 2015 double feature
In 2015, Beach House released Depression Cherry and followed up just months later with another studio album, Thank Your Lucky Stars. "I think we learned something very important with those two records," Legrand said in an interview with Stereogum. "Something was sedimented doing that. It was this huge endeavor and I don't think we could ever do something like that again, but we learned a lot from it." In 2017, Beach House released a compilation titled B-Sides and Rarities.
7 was recorded at home
Beach House and drummer James Barone recorded the new album in a home studio, which they've said allowed them creative freedom to get up and get to work. "When we recorded the first group of songs, we thought it would just be a couple of them and then it ended up being five," Scally told Stereogum. "That's when we started working with Peter [Kember]. It was a positive feedback cycle that made it happen really quickly when we just didn't think it was gonna happen."
The band say they wanted to make a more "natural" album
"In the past, we often limited our writing to parts that we could perform live," the band explained in a press release. "On 7, we decided to follow whatever came naturally. As a result, there are some songs with no guitar, and some without keyboard. There are songs with layers and production that we could never recreate live, and that is exciting to us. Basically, we let our creative moods, instead of instrumentation, dictate the album's feel." In an interview with Billboard, Scally added, "There's a lot of loose energy on the record; we would try something and end up keeping it. It feels really alive for us. It became less canned."
7 is political—but not overtly
Beach House say the "social insanity" of 2016-2017 was an influence, particularly as it relates to women's rights: "Energy, lyrics and moods … grew from ruminations on the roles, pressures and conditions that our society places on women, past and present," they said in a statement. But in their interview with Stereogum, the band made clear 7 is not an overtly political album. "This is not a record about everything that's directly happening," Legrand said. "Does it touch on human feelings and does it touch on darkness and chaos? Yes."
The album cover is kinda dark, too
The 7 cover features torn-apart images of classic, glamorous Hollywood archetypes, transposed and layered with crowds, buildings, scenic landscapes, and fragments of women's faces—a hint at deeper themes of societal glamour and the darkness therein.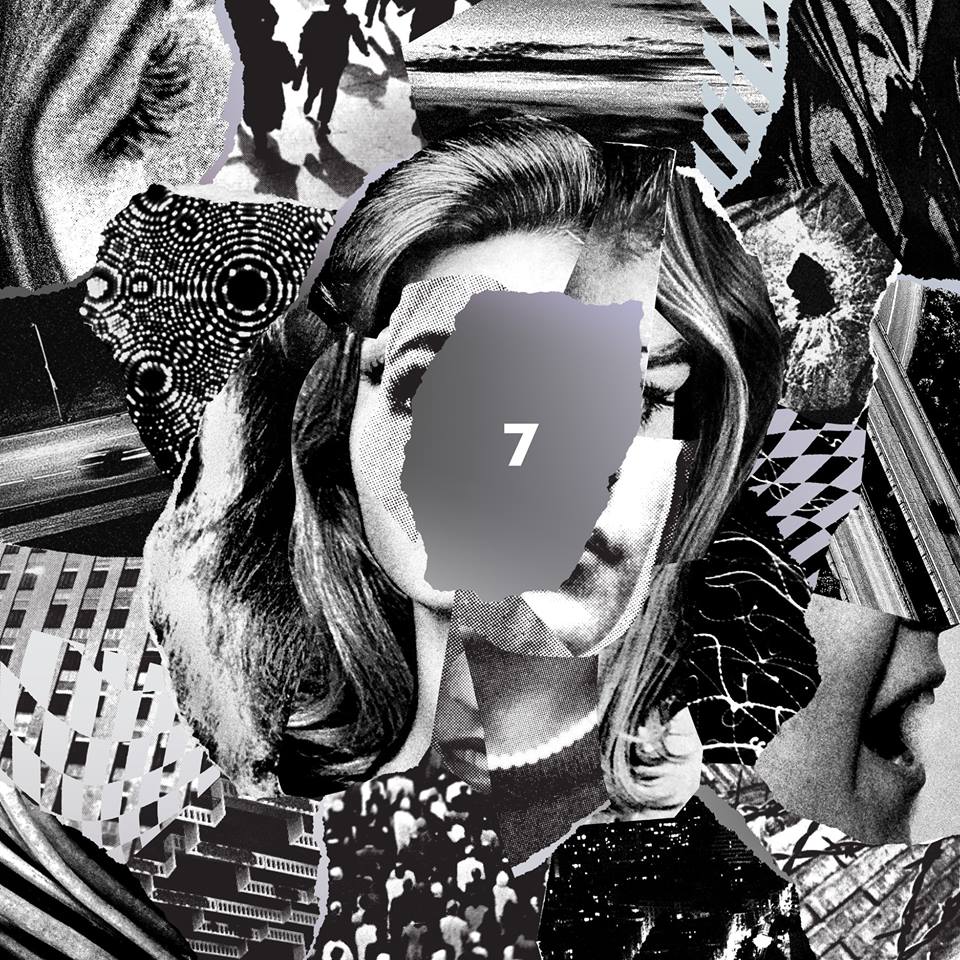 North American tour that will take them through the summer. After that, they're headed to Europe until the end of fall. Tickets for the remaining dates are available at their website.