Arctic Monkeys' new album Tranquility Hotel Base and Casino arrives May 11. The follow-up to 2013's AM was recorded in Los Angeles, where some of the Sheffield-based band now live, and Paris. Frontman Alex Turner co-produced the album with James Ford of Simian Mobile Disco, who's also worked on previous Arctic Monkeys releases. Here's everything we know ahead of the new record, and it's going to be rather short, because…
There are no singles

Some weeks after Casino's announcement, we learned that Arctic Monkeys didn't intend to share any of it prior to the official album release date. They did recently debut four new songs live in San Diego—you can watch fan-shot video of the performance here. The audio quality isn't the best, though, so purists may prefer to wait for the proper release.
There are 11 songs
We do, however, know all the song titles. The track list in full:
1. "Star Treatment"
2. "One Point Perspective"
3. "American Sports"
4. "Tranquility Base Hotel & Casino"
5. "Golden Trunks"
6. "Four Out of Five"
7. "The World's First Ever Monster Truck Front Flip"
8. "Science Fiction"
9. "She Looks Like Fun"
10. "Batphone"
11. "The Ultracheese"
Here's hoping "The World's First Ever Monster Truck Front Flip" is a recording of exactly that.
Alex Turner wrote the album on piano
Turner wrote all the songs on the album, and rather than sitting down with a guitar as he typically has in the past, he began composing at his piano. That process helped lead him into new chord progressions and some "jazzy turns," he told Rolling Stone. As inspiration, Turner cites Serge Gainsbourg's classic concept album Histoire de Melody Nelson and Dion's Phil Spector-produced Born to Be With You. Turner also provided Mojo magazine with a playlist of musical guiding lights, including Nina Simone, the Rolling Stones, Leon Russell, and the work of film composers like Ennio Morricone, François de Roubaix, and Nino Rota. (Don't go making your own Spotify playlist, because the folks at The Independent already did.)
Alex Turner of @ArcticMonkeys reveals to @MOJOmagazine the tunes buzzing in his head around the writing and recording of Tranquility Base Hotel & Casino. More here: https://t.co/qaaLr1TMhR pic.twitter.com/liIktL3E9z

— MOJO Magazine (@MOJOmagazine) April 24, 2018
The Tranquility Base is real… small
The album's namesake hotel and casino complex doesn't actually exist—unless you count the miniature Turner constructed with paperboard and X-Acto knives during long late-night crafting sessions, as he told Rolling Stone. He calls it "the lobby model," like the architectural dioramas one might see in the lobby of a fancy building. The base of Turner's model is a hexagon, with six sides to represent his band's sixth album. It was photographed for the album trailer and for the cover, which looks like this: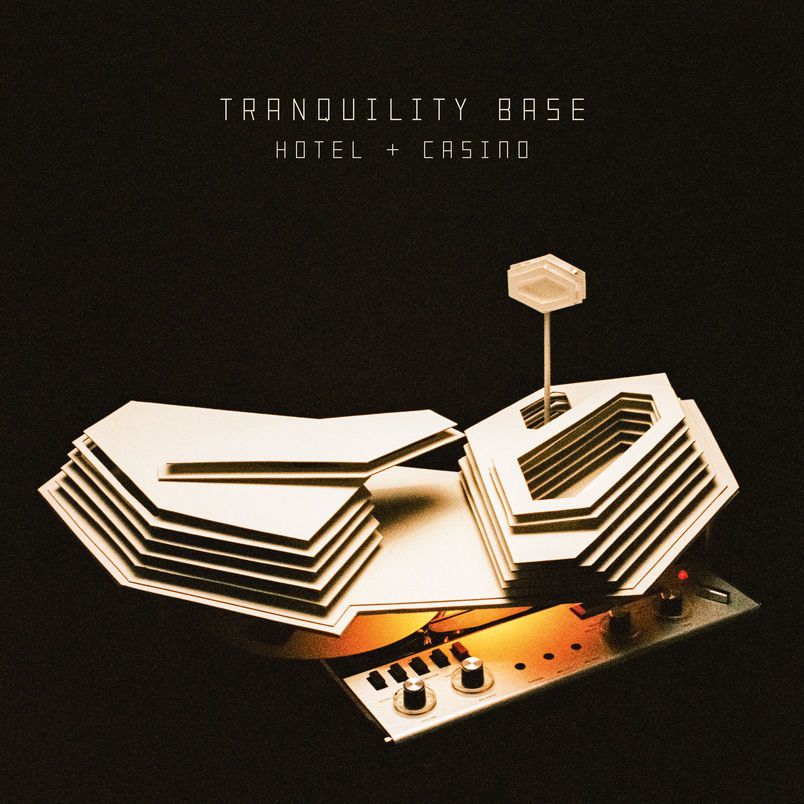 North America, the U.K. and Ireland, and continental Europe through the end of the year. A number of American dates have already sold out, but they've added some additional ones out West in October, and they'll also be appearing at several North American summer festivals: Lollapalooza, Firefly, Osheaga, and Austin City Limits.