Carly Rae Jepsen, Maggie Rogers, BØRNS, and Billie Eilish have been announced to headline the All Things Go 2018 Fall Classic festival on October 6-7. The festival, first launched in 2014, returns to Union Market in Washington D.C. for its fifth year this fall.
At a time when more festivals are pushing for a gender balance in their lineups, Saturday boasts an all-female lineup curated by Maggie Rogers and LPX. In a statement accompanying the press release, Rogers explains the thinking behind putting together her lineup:
Almost a year ago, [we] dreamed of creating a more diverse music festival culture that celebrates the artistry, individuality, and vision of our peers. Amplifying the voices of female and non-binary artists is the first step towards permanently changing a culture that for so long has under represented these essential members of the global artistic community. I'm so proud to be a part of All Things Go and to share a stage with these artists I so deeply believe in.
Rounding out the lineup are Jessie Reyez, Betty Who, The Aces, and more.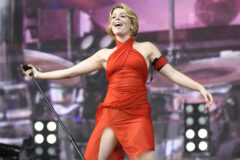 Additionally, the festival will feature a partnership with Women's March and their voter registration and mobilization effort, Power to the Polls. 
Maggie Rogers is set to release a new single on May 23 titled "Fallingwater." BøRNS released his sophomore effort Blue Madonna earlier this year. Jepsen is rumored to release music sometime in the late summer, and her last album E•MO•TION received a spot on Spin's "Best Albums of 2015" list.
Tickets go on sale Wednesday, May 23 on the festival's website.