Why did Taylor Swift record a soul-less, funk-less country-pop cover of Earth, Wind & Fire's soul-funk classic "September"? That's an aesthetic question, so let's take a minute to consider facts: The original version of the song's opening line goes, "Do you remember the 21st night of September?" It's an endearing call to action for a song that's arguably the one of the most famous of the funk-soul-disco glory days. Swift's version makes one conspicuous lyrical change: On the cover, she sings, "Do you remember the 28th night of September?"
A week's difference between the two dates might seem unremarkable, but Swift has something of a, shall we say, reputation for sneaking references with personal significance into song lyrics, and there's little her fans enjoy more than finding them. "September" is a song about love and Swift's not one for fond lyrical reflections about her famous exes, so the first and easiest guess involves her current romantic and hiking partner, the British actor Joe Alwyn; the two reportedly began seeing each other some time prior to May 2017.
The original draft of a press release from Spotify, where Swift's "September" cover was released as an exclusive, certainly lends itself to this interpretation:
Taylor says that she chose "September" for sentimental reasons. She's always loved the classic tune by Earth, Wind & Fire, and notes that the month of September is especially meaningful to one of her relationships. An added layer of sentiment came from being able to record the song in a Nashville studio, the city Taylor moved at age 14 to pursue country music.
Check that press release now, though, and you'll find that two key details have since been deleted from that paragraph—that Swift recorded the song in Nashville, and that the month of September "is especially meaningful to one of her relationships." The statement now reads: "In addition, Taylor chose 'September' for sentimental reasons. She's always loved the classic tune by Earth, Wind & Fire, written by Maurice White, Al McKay and Allee Willis."
When we asked Spotify why the statement was edited, a rep told us: "Apparently someone on our team put up an incorrect version of the blog post late last night. They caught it sometime earlier this morning and put up the correct version." (A representative for Taylor Swift did not respond to a request for comment.) The apparent selective editing by an artist famously careful about her public branding—so much so that she published her own magazine rather than grant a single interview about Reputation—makes the retraction about September's significance all the more interesting.
Considering when the song was recorded and released, it's possible the September in question was the most recent one, when Swift was between public relationships and/or hidden from the media. Where was she on Thursday, September 28, 2017? That, only Taylor Swift knows. For most of last fall, Swift promoted her new album while keeping an impressively low public profile. When paparazzi photographed her as a bridesmaid in a friend's wedding in early September, it was the first time the public had seen her in quite some time. Cardi B's "Bodak Yellow" bumped "Look What You Made Me Do" from the number-one spot the week of September 28, but that doesn't seem like it has much bearing on "September." If September 28 was a date of some special significance to Swift in 2017, we may never find out why.
What about Wednesday, September 28, 2016? Early that month, Swift reportedly broke up with previous boyfriend Tom Hiddleston, and at the time, she appeared in public so often that seemingly half her social calendar is preserved on Getty Images. Thus, we can pinpoint exactly where Swift was on the night of the 27th: out to dinner in the West Village with a crew of famous people including Cara Delevingne, Suki Waterhouse, Sienna Miller, Lorde, and Jack Antonoff, who wasn't yet famous enough to merit identification. (Here, for the sake of timestamp reference, is the Getty link.)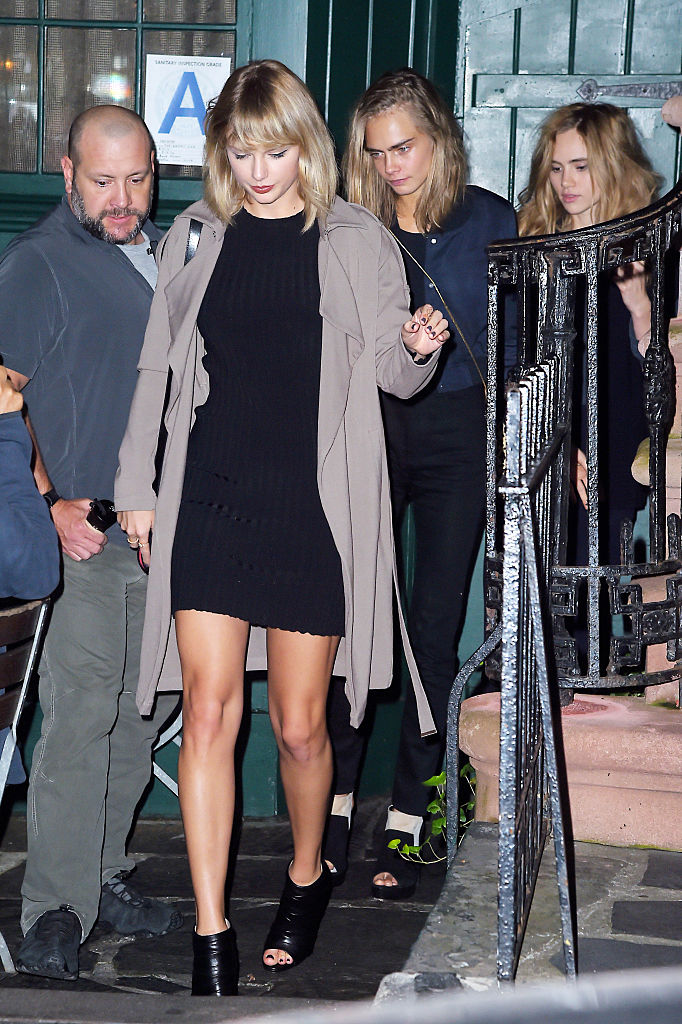 The cameras caught Swift again during the daytime on the 28th, when she was photographed smiling in a plaid shirt while leaving her apartment: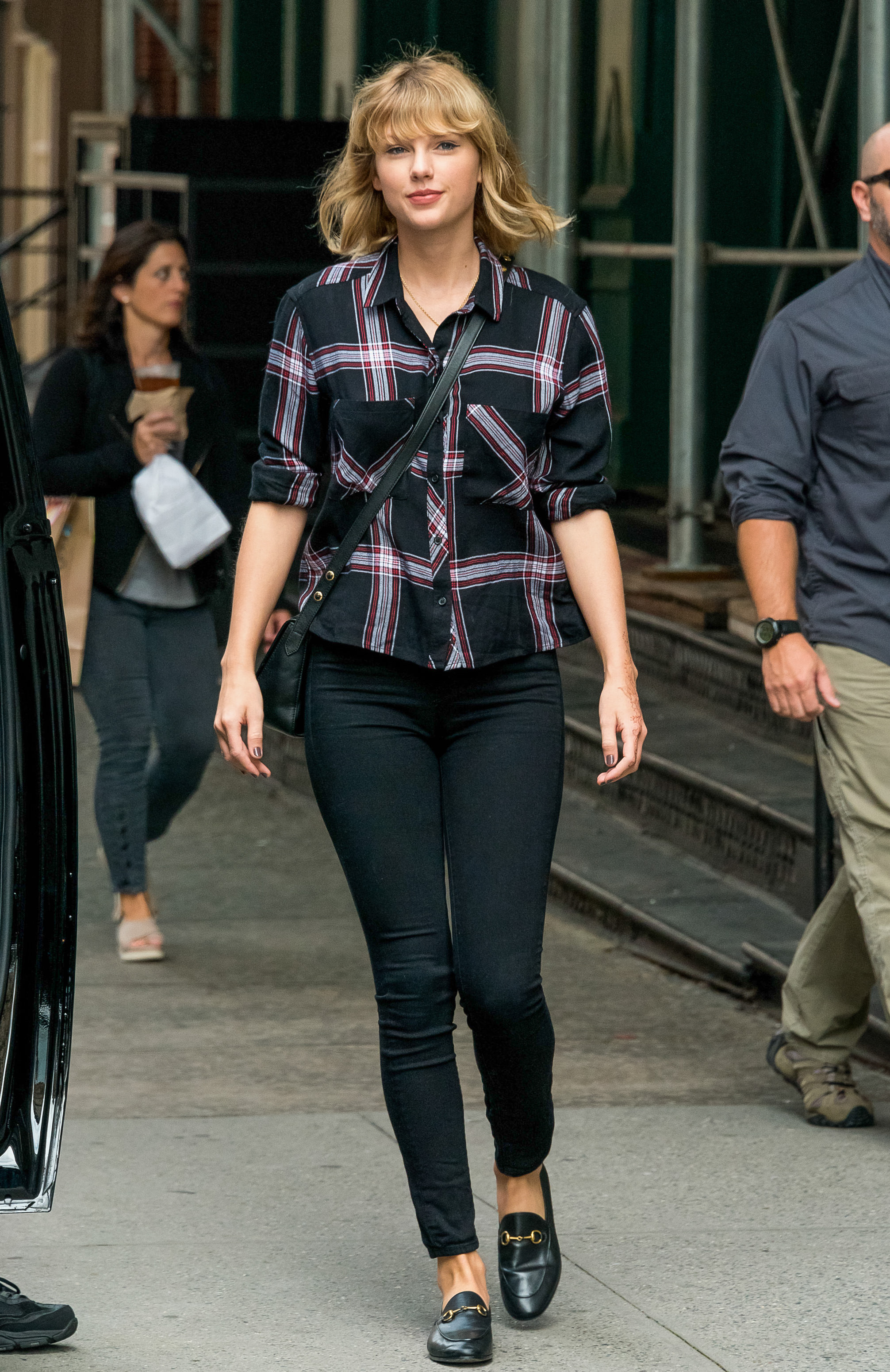 We can be fairly certain Swift spent at least part of the 28th with Delevingne, who was photographed leaving the apartment early on the 29th: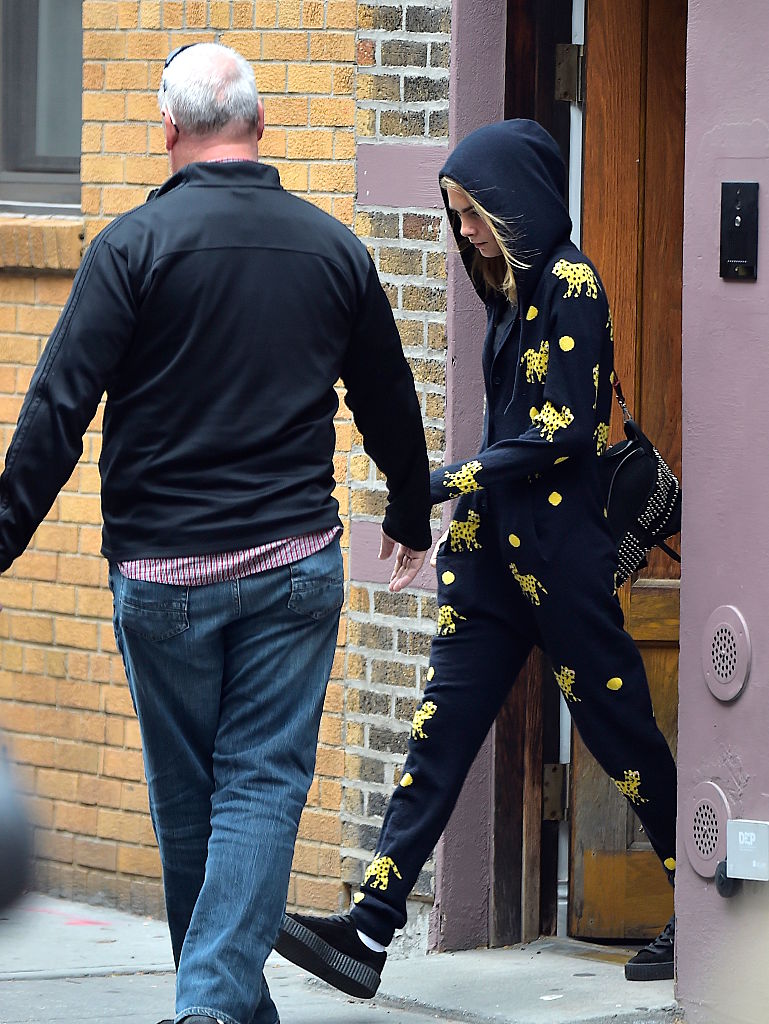 Continuing back to 2015, Swift's September whereabouts are somewhat less precise: She performed the 1989 World Tour in Nashville on September 26 and in St. Louis on September 29. And though it's possible she dedicated an entire cover song to an experience from that tour, or to then-boyfriend Calvin Harris, it's hard to imagine she had much time off for romance. That would lead us to believe that Taylor Swift's special September 28—if it happened recently, or at all—was most likely in 2017 or 2016. Did she have a meaningful moment last fall, perhaps on one of her rumored secret trips to visit Alwyn in London? Or could the pair have connected as early as September 2016, more than six months before the relationship was reported publicly? Maybe her "September" cover is dedicated to someone else—or to no one in particular, as the revised press release would suggest. Maybe she just loves Earth, Wind & Fire that much.