Queen Elizabeth II celebrated her 92nd birthday Saturday night by throwing a big-ass concert at Royal Albert Hall in London featuring an assortment of British and British-ish musical acts, including Kylie Minogue, Shawn Mendes, and (Sir) Tom Jones. As previously reported, the royal family also booked Sting—who is not a knight, but in 2003 received a CBE, the next highest honor—and Shaggy, who performed their reggae-gesturing single "Don't Make Me Wait," from their collaborative and seemingly ironic new album 44/876, released on Friday. The album is Sting's first since his 2016 rock comeback 57th & 9th, and Shaggy's first since 2011's Summer in Kingston.
The Queen seemed to enjoy the set, although it's tough to be sure. Prince William, Prince Harry, and Meghan Markle also clapped politely for Sting and Shaggy.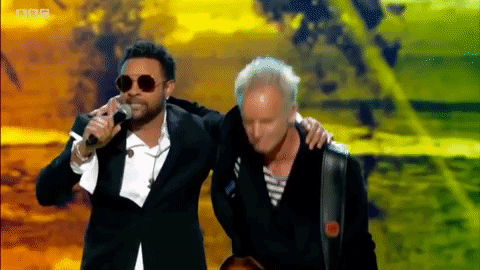 Watch the performance, along with an ensemble rendition of Louis Armstrong's "What A Wonderful World," capped with a grand stage entrance by the Queen, followed by the audience thrice chanting "hip-hip-hooray" in her honor, below.
https://youtube.com/watch?v=LccvPmdG4Zk