My Bloody Valentine have announced a U.S. summer tour. This marks the first time the shoegazers have toured this side of the pond since 2013. Before Kevin Shields and crew come back to the States, they'll be playing a couple festivals, including the Meltdown Festival, as curated by the Cure's Robert Smith.
Tickets go on sale on Friday, April 27 at 10 am and can be purchased here.
Tour dates are as follows:
Sat. June 23 – London, UK @ Royal Festival Hall – Robert Smith's Meltdown
Sat. June 30 – Sat. July 7 – Roskilde, DE @ Roskilde Festival
Tue. July 17 – Seattle, WA @ Paramount
Thu. July 19 – Oakland, CA @ Fox Theater
Sun. July 22 – Los Angeles, CA @ FYF Fest
Wed. July 25 – St. Paul, MN @ Palace Theatre
Fri. July 27 – Chicago, IL @ Riviera Theatre
Mon. July 30 – Philadelphia, PA @ The Fillmore
Wed. Aug. 1 – New York, NY @Hammerstein Ballroom
Fri. Aug. 17 – Makuhari Messe, JP @ Sonicmania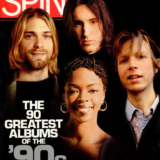 In March, Shields told NPR that he was hoping MBV would put out a new "sprawling" EP by June followed a new full-length at some point before the end of the calendar. While some new My Bloody Valentine music in the near future would be a pleasant surprise, we're not holding our breath. The band's last release album was 2012's m b v.