Moby has written an op-ed for The Wall Street Journal about the Supplemental Nutrition Assistance Program, more commonly referred to as food stamps. As the current administration debates over funding and the future make-up of the program, the musician has weighed in on what he sees as the benefits and downsides of it. Moby opens with saying that he grew up in a family that used food stamps, but goes on to criticize its current configuration, saying that it should stop covering junk food.
"Large industrial food producers love a program that obliges the government to pay for anything and everything they produce," he writes. "Selling soda, candy and heavily processed meats is easy when the government picks up the tab. Under SNAP, the big food conglomerates go to the bank while the poor end up in the emergency room."
He concludes: "Congress should fix SNAP, not gut it. The U.S. can have healthier people, lower health-care costs, and a trimmer budget at the same time."
Read the full op-ed here.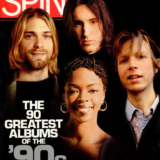 This article originally appeared on Stereogum.