It was just over a year ago that a blonde and slightly dazed-looking Kanye West appeared in the Trump Tower lobby to pose for photos with the then-president-elect. But judging by the reception for Kanye's return to Twitter and forthcoming new albums, you'd think multiple lifetimes had passed since then. In an environment where a tenuous or even imagined connection to Trump support is enough to earn an artist a spot on a fan's blacklist, Kanye—a guy who literally embraced the president, called his campaign "genius," said he would have voted for him had he voted at all, and reportedly angled for a spot in his administration—endured only a short backlash before everyone seemingly forgot about it, or wrote it off as one more symptom of the demons that were evidently hounding him at the time.
Now that everyone is back on Kanye's side and feverishly faving his tweets, he would like to remind you that he wasn't just fucking around pulling your leg back in 2016. Ebro of Hot 97's Ebro in the Morning said today that he spoke with Kanye over the weekend, after the rapper tweeted "I love the way Candace Owens thinks," referencing a right-wing pundit who spent Friday chiding Black Lives Matter protesters for talking about oppression because they didn't personally live through slavery or Jim Crow. West apparently told Ebro that he likes Owens (who is black) because she is "challenging conventional black thought." In case that stance isn't clear enough, according to Ebro, Kanye also said "I really love Donald Trump," which shouldn't be surprising to anyone that paid attention to him in 2016. The Trump soundbite comes up at about 6:50 into the video below.
And this morning, Kanye tweeted eight straight video clips by Dilbert creator and right-wing pseudo-intellectual Scott Adams, further expressing his identity as the kind of clueless rich guy who earnestly believes that historical circumstances are irrelevant and anyone can become successful by working hard and manifesting it with the power of positive brain electricity, or something. (Maybe Kanye's good friend Rick Rubin hipped him to Adams.) "Do you know what happens when history doesn't repeat?" Adams says smugly and with the air of revelation in one of the videos. "Then you can become president of the United States without ever being a politician."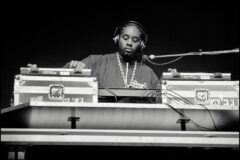 https://twitter.com/kanyewest/status/988453523883937792
Kanye isn't joking or engaging in some complex thought experiment when he expresses support for people like Owens and Trump, as much as we might like to believe that he is. If you really respect him as an artist and person, you owe it to him to take him at his word.