This morning the Spin staff watched an old commercial from the Clinton administration hawking a year's subscription to our now-deceased print magazine for the reasonable price of 14.95. It's a steal when you consider that the subscription came with a VHS tape (kids, ask your parents) full of the same videos that were probably played every hour on the hour on MTV.
The commercial itself is an effective time capsule for 1994, with the punishing opening to Ministry's "N.W.O" paired with a British voiceover empathetically declaring "This is rock and roll, and no one covers it like Spin." Ministry frontman Al Jorgensen, Lisa Loeb, the Deal sisters, Liz Phair, and a baby Beck serve as the bored telethon phone jockeys for host Tony Bennett, who was coasting on some Grammy wins for his comeback album Steppin' Out.
https://youtube.com/watch?v=ETewa-8kEmk
We were tipped off to the video by Twitter user Mark Coglianese, who began a small investigation into a mysterious duo in the clip this morning.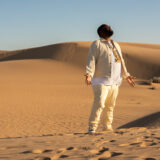 @SPIN who are the couple playing rockem sockem robots in your commercial? Please help. pic.twitter.com/9vHZGzyLn2

— Mark (@MarkCoglianese) March 28, 2018
Coglianese eventually got responses from Liz Phair and Liss Loeb, though the identity of the woman to the top right remains unknown (if you know who she is, let a blogger know: [email protected]).
Why am I playing dominos? https://t.co/DCVXP01tSj

— Liz Phair (@PhizLair) March 28, 2018
@juanpatinophoto !! And ? https://t.co/l1HB2E2rrb

— Lisa Loeb (@LisaLoeb) March 28, 2018
While watching the 1994 ad, YouTube helpfully pointed me in the direction of this 1987 spot — clearly transferred from an old VHS tape — celebrating the magazine's second birthday with the help of a young, leather-clad Simon Le Bon.
The resolution is terrible, but the Duran Duran singer is clutching a Spin issue featuring Madonna on the cover.