According to a toxicology report obtained by the Associated Press, Prince had an "exceedingly high" level of the opioid fentanyl at the time of his death. Experts consulted by AP, who were not involved in the investigation of the musician's death, agree that the level of fentanyl likely killed him.
Dr. Lewis Nelson, chairman of emergency medicine at Rutgers New Jersey Medical School, called the levels of pain medication in Prince's system "a clear smoking gun."
"The amount in his blood is exceedingly high," Dr. Nelson said, "even for somebody who is a chronic pain patient on fentanyl patches."
The confidential toxicology screening stated that the concentration of fentanyl in Prince's blood was 67.8 micrograms per liter and explained that people have died from having as little as three micrograms per liter in their system. From AP: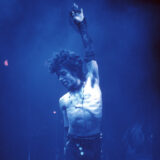 The report also says the level of fentanyl in Prince's liver was 450 micrograms per kilogram, and notes that liver concentrations greater than 69 micrograms per kilogram "seem to represent overdose or fatal toxicity cases."

There was also what experts called a potentially lethal amount of fentanyl in Prince's stomach. Dr. Charles McKay, president of the American College of Medical Toxicology, said generally speaking, the findings suggest Prince took the drug orally, while fentanyl in the blood and liver suggest it had some time to circulate before he died.
Prince was found unconscious in an elevator in his Paisley Park estate in April 2016 and was pronounced dead after several CPR attempts from first responders.