After an introduction from Big Sean and Stoneman Douglas shooting survivor Alex Moscou, Eminem kicked off his iHeartRadio Awards performance of "Nowhere Fast," which included a new verse targeting the NRA. He was joined onstage by Kehlani, who is featured on the track.
"This whole country is going nuts and the NRA is on our way," Eminem rapped. "They're responsible for this whole production; They hold the strings, they control the puppet."
The Grammy winner also took a swipe at the Trump administration's response to the Parkland shooting.
"So they know the government won't do nothing and no one's budging," Eminem rapped. "Gun owners clutching their loaded weapons; They love their guns more than our children."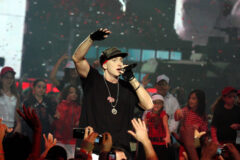 You can watch the entire performance below.
https://youtube.com/watch?v=bx04ZR3iUz8
In 2001, Eminem pleaded no contest regarding weapons charges related to an incident in 2000 where the Detroit rapper pulled a gun on someone Rolling Stone described as "an associate of the Insane Clown Posse."