Nickelodeon is rebooting another one of its former hits. The Viacom-owned cable network is in early discussions to reboot sitcom Clarissa Explains It All, sources tell The Hollywood Reporter.
The reboot would see former star Melissa Joan Hart reprise her role as Clarissa Darling, only this time, she would play the mother of the family. Series creator Mitchell Kriegman is also in talks to return to write and exec produce. Hart will also exec produce via her Hartbreak Films banner, which she runs with her mother, TV producer Paula Hart. Nickelodeon declined comment as deals with both Hart and Kriegman are not done. The project, sources say, is in early development at Nickelodeon.
The original series ran for five seasons (65 episodes) on Nickelodeon from 1991 to 1994 and starred Hart as Clarissa, a teenager who spoke directly to the audience as she dealt with problems including school, boys and family. Jason Zimbler, Sean O'Neal, Elizabeth Hess and Joe O'Connor co-starred. The series was credited with being Nick's first with a female lead. Its success led to other female-fronted series, including The Secret World of Alex Mack and more.
Kriegman revisited the series in 2015 with a novel, Things I Can't Explain, which served as a sequel to the series and followed Clarissa, now in her late 20s, trying to navigate life as an adult.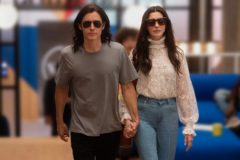 In a February interview with THR about her work directing ABC's The Goldbergs, Hart—who went on to star in ABC's Sabrina, The Teenage Witch—said she thought Clarissa would be prime to be rebooted as Netflix is doing its own, dark take on Sabrina.
"I like the way we left Sabrina. I think Sabrina ended on a really great note, and I don't think you want to go back and explore that. At the same time, I think Clarissa ended on a note that could be explored again, because it didn't really have an ending — it sort of ended," she said.
For Nickelodeon, the decision to reboot Clarissa comes as the Viacom cable network recently announced plans to revive Blues Clues, handing out a 20-episode order for the animated preschool hit with a live-action host. The kids-focused cable network has been one of Viacom's most stable brands. While its ratings were flat this past year, competitors including Disney Channel saw a 24 percent drop in total viewers last year.
Reboots remain in high demand as broadcast, cable and streaming outlets look for proven IP in a bid to cut through a cluttered landscape expected to top 520 scripted originals this year. Key to them is having the original producers attached, which Clarissa does with Kriegman.
This article originally appeared at The Hollywood Reporter.