Late one night last August, the Belle and Sebastian tour bus headed for a gig in St. Paul, Minnesota, leaving drummer Richard Colburn at Walmart in his pajamas with only a credit card. "Shit, we left Richard in North Dakota," frontman Stuart Murdoch tweeted, hoping to crowdsource a rescue. The mishap made the rounds on music media, and from there, became fodder for Jimmy Fallon's Tonight Show monologue and a weird-news item on NPR.
Murdoch and singer/guitarist Stevie Jackson try not to cringe when I ask about that night. "It sounds like the kind of thing that people would try and fabricate," Jackson admits. "The pajamas! The credit card!" cries Murdoch in mock despair. "It's only ever happened to us twice in our career—a story having unexpected legs," he adds, sounding apologetic. "The first time was when we won a Brit Award. We had just started and we didn't realize it was a big deal, and nobody expected us to win, and people were shocked, and we were like front page news in Scottish tabloid papers. And then, 15 years later, we forget Richard and suddenly we were on Jimmy Fallon."
We're sipping tea and soda in the back room of Manhattan's White Horse Tavern, storied watering hole of Dylan Thomas and Jack Kerouac but now populated by a handful of Wednesday day drinkers. It's mid-January, with snow in the air and bales of discarded Christmas trees on the sidewalks. Some rock stars age into sport coats and sunglasses; Jackson keeps his three-button blazer fastened all the way up to the top, and Murdoch, perpetually chilled, wears a wool coat with a large bar of dark chocolate in the pocket. They look like college professors and share the easy familiarity of longtime friends.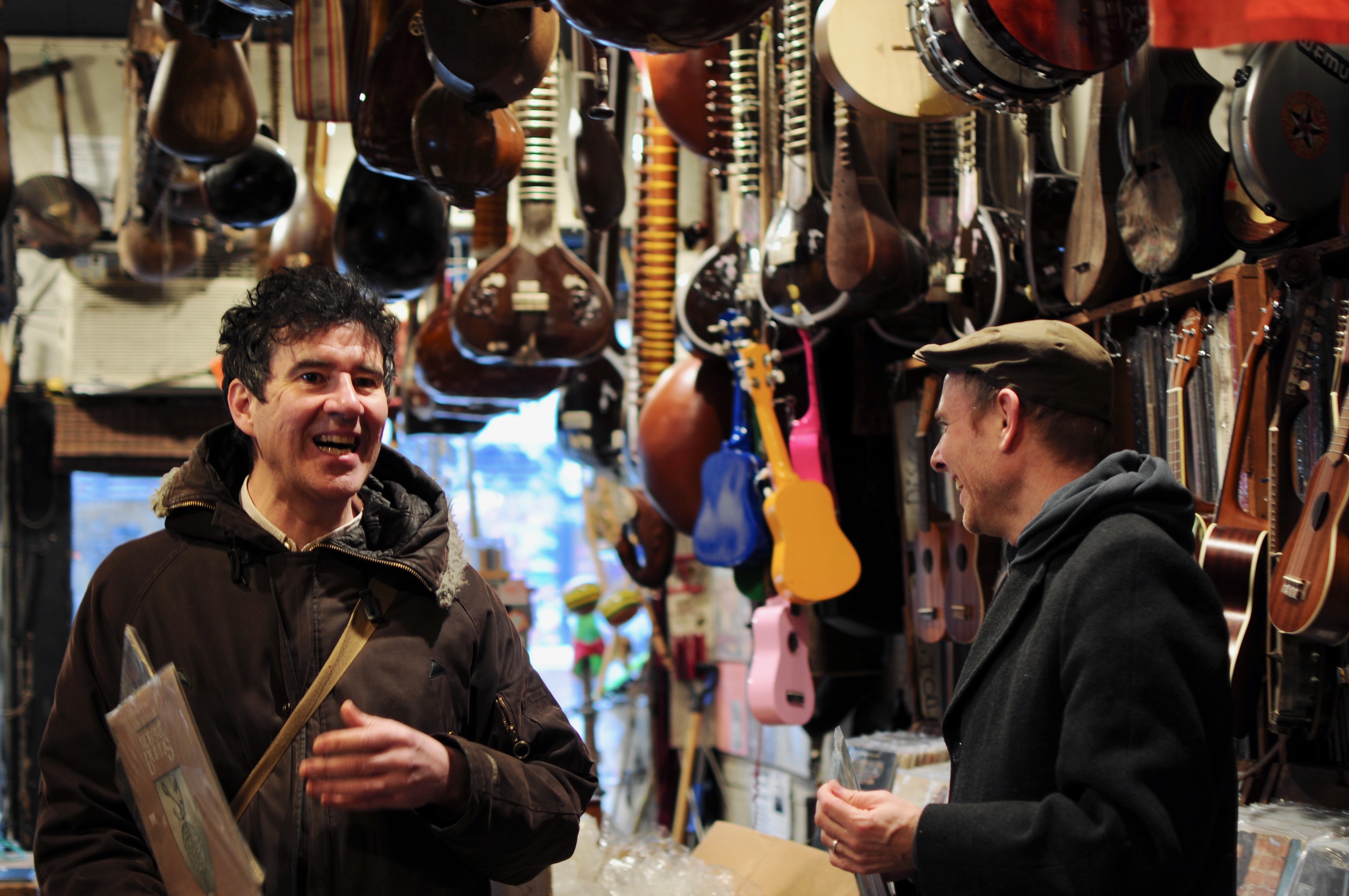 Tonight, the pair will co-host a film screening at the downtown art theater Metrograph, which sometimes asks a notable director to curate their "Dream Double Feature." The official Belle and Sebastian double feature is a joint venture, united by a loose theme of midcentury London and Paris. It's easy enough to project a personality analysis in the choices: Jackson's is The Servant, a slow-building, formally beautiful and darkly psychosexual 1963 drama scripted by Harold Pinter; Murdoch's is Stolen Kisses, François Truffaut's happy-go-lucky 1968 sequel to The 400 Blows, a film anchored by—what else—a great pop song. At tonight's screening, Murdoch will dub the pairing "an entree and dessert."
The two are also in New York to promote Belle and Sebastian's three new EPs, titled How to Solve Our Human Problems (Parts 1, 2, and 3) after a book of Buddhist teachings, recorded at home in Glasgow on a impromptu schedule, and released one at a time between October and February. Just about every member of the group effectively directed a song or two, working out arrangements together in-studio and deciding one-by-one whether or not to hire a producer. In one sense it's a novel approach, and in another, it's the oldest trick in their book. The Belle and Sebastian catalog runs to nine full-lengths, but sideways along the top of the shelf is a nearly unbroken progression of EPs, three-song singles, and one-offs. Since the trio of 1997 EPs on which Problems is self-consciously modeled, essential tracks ("Lazy Line Painter Jane," "I Love My Car," "Your Cover's Blown") have slipped quietly into non-album releases.
Even Stuart Murdoch—especially Stuart Murdoch—will admit that the band's previous two albums, 2010's Write Above Love and 2015's Girls in Peacetime Want to Dance, met a somewhat muted reception. "In the early days, people were quick to review us and we were young and exciting for some people," he says. "These days, we don't tend to respond to the outside world."
Or perhaps it's the outside world that doesn't tend to respond to Belle and Sebastian, at least as long as they remember where they've put their drummer. That's an old story too: the inevitable, incremental exchange of youth and excitement for experience and contentment. "If the guitar player shot the bass player in a moment of anger, there would be a story," Jackson says, putting it a bit darkly. "'Oh man, they were so screwed up when they made it and you can hear it.' I don't know. I think all that stuff eventually disappears over time and the records will just get judged the way they are."
***
Their days of interpersonal band drama may well be behind them, but Belle and Sebastian simply aren't the type of people who could stop worrying altogether. They've always dressed up isolation and melancholy with a light aesthetic and an even lighter touch, thanks in no small part to Murdoch's astonishing melodic gift and mercurial singing voice. "Old sad bastard music," as High Fidelity put it, and that was almost 20 years ago. Of course they rock, too—they wrote one of the all-time tightest grooves about lingering depression. How to Solve Our Human Problems is not the handy guide to existential angst promised in the title, but it might, very gently, push you to recognize a thing or two.
The new collection brings a renewed sense of social interest, particularly as the band touch one their most explicitly political lyrics to date. From "The Girl Doesn't Get It," a song from Part 1: "They'll take profits over people / They will make the country great again / Just as long as it's white and ugly." The phrasing echoes a certain inescapable American nationalist slogan, but the context is British, Murdoch explains. He was inspired by a viral photograph of counterprotester Saffiyah Khan, the young woman who faced down an angry member of the far-right, anti-immigrant English Defense League at a Birmingham street protest last spring. "She was just sort of cheerful in the face of these aggressive ugly men that didn't want her to be there," Murdoch says. "Someone just snapped a picture and it seemed [like], 'That's the Britain we want, that's the Britain we don't want. That's the hope, there's the reality.'"
Unpleasant realities are knocking, even at the doors of a band as famously insular as this one. "My wife's American, and she put it quite succinctly," Murdoch says. "She's like, 'You know? I think people are still shocked that we had a black American president for those years, and they're just now reacting to that, and middle America is still reacting to that, they couldn't believe they ended up with that.' Back in Britain we have Brexit, and all these older people are coming out and still talking about the war, and they might as well be talking about the Empire. It's all so lost in time, and who cares, really? You know, they're just clinging on to these prejudices, and they're all going to be dead, and it's not doing us any good at all."
Belle and Sebastian are staying in present, then, as "Everything Is Now," the two-part song tying together Part 1 and Part 3 is rather eager to acknowledge. Of course, to a band reaching legacy status, the present can be a slightly awkward exercise in keeping one foot braced to land on the other side of it. Their vision of the future is inclusive, like the EP art that features real-life fans of the band photographed by Murdoch. It sounds like "I'll Be Your Pilot," a tender, Little Prince-inspired ballad for Murdoch's son that trades his invented characters and their unresolved narratives for something more teachable and fable-like. ("If you just look at the song titles," he notes of his recent work, "a lot of 'I,' 'I,' 'me.'") Advance single "We Were Beautiful" is an anthem of solidarity for sensitive types, born of the same ambitious pop instincts that animated Girls in Peacetime's big dance number "The Party Line."
Some percentage of the balance is the proverbial leftovers—you don't develop a deep bench of deep cuts by canning all your spare material. Murdoch wrote new lyrics for the second part of "Everything Is Now," but the music is a Chris Geddes composition that didn't find a place on Girls in Peacetime. The oldest song of the bunch, "A Plague on Other Boys," is a solipsistic pastoral of first love scorned that Murdoch wrote years ago as a personalized prize for the winner of a promotional Write About Love essay-writing contest. "This fellow from Omaha, Nebraska, John, I liked his piece the best," he recalls. "It was kind of bitter and sort of funny. We thought he was maybe like 40 years old, a gay man or something, but he was a schoolboy, so we stayed with him and his mom and his grandma, and then I wrote the song on the way back home. He let a little bit slip about his love life at the time, even though he was only 13." John, if he's out there, is 20 or 21 by now.
After so many years working together, Murdoch and Jackson agree, there's no sitting down and planning to arrive at a cohesive concept. "We would have tied ourselves in knots 15 years ago trying to do this," Murdoch explains. "Nowadays we're so comfortable with what we all bring to the table that when someone brings an idea, we all work on that idea. It goes in the pot. And what comes out is a Belle and Sebastian record, or a series of Belle and Sebastian records, and that's the flavor of us."
His best creative advice comes mixed with a little scripture. "Whatever you do, you shouldn't hide your light under a bushel, or something like that."
***
How to Solve Our Human Problems got its name from a book Murdoch picked up at his local Buddhist temple. He'd visited to meditate and ended up attending classroom-style spiritual lessons he credits with granting him a new perspective on the nature of suffering and the immediacy of the present—that's what "Everything Is Now" is about. It's a supplement to his longstanding Christianity, and maybe a strategy to prevent him getting stuck in his ways. "Probably in that first class, there was two or three ideas that had never occurred to me, just about living, that I took with me," he says. "And I'm nearly 50, so to have a new philosophy is pretty refreshing."
It's not exactly surprising to hear spiritual inclinations from the man who once sang that "the only freedom that you'll ever really know / is written in books from long ago," but in retrospect, it's not so difficult to spot previous flashes of interest in mysticism in the Belle and Sebastian discography, too. It's there winking from the title of 2013 rarities compilation The Third Eye Centre (named after a former exhibition space in Glasgow), and in Murdoch's narration of a near-death experience on Girls in Peacetime opener "Nobody's Empire." Longtime fans were always aware of Christian themes peeking through the catalog, though Murdoch's never been especially keen on discussing them. "It's interesting that Buddhism is easy to talk about in mixed company," he says, "whereas Jesus always comes with—"
"Oh, Jesus," Jackson interjects, affecting a tone of exasperation.
"I know," Murdoch says. "Christianity, whoever's doing their PR—because at the core, it's so similar [to Buddhism] and they're both fantastic philosophies."
With a sense of preordination disputed by the practice itself, Murdoch explains that he feels Buddhism entered his life to counterbalance his struggles, like the bouts of myalgic encephalomyelitis (chronic fatigue syndrome) that have periodically sidelined him since he was a young man. Even within his spiritual second home, he perceives himself a bit of an outsider. One Buddhist nun in particular, he says, is fond of pointing to pop music as a symbol of everything that's ultimately meaningless in life. "To them, I think music still represents a world that is too worldly and totally produced," he says. "They're still looking deeper. But the music from me absolutely wells up from the inside, and to me, that's the thing that they're talking about."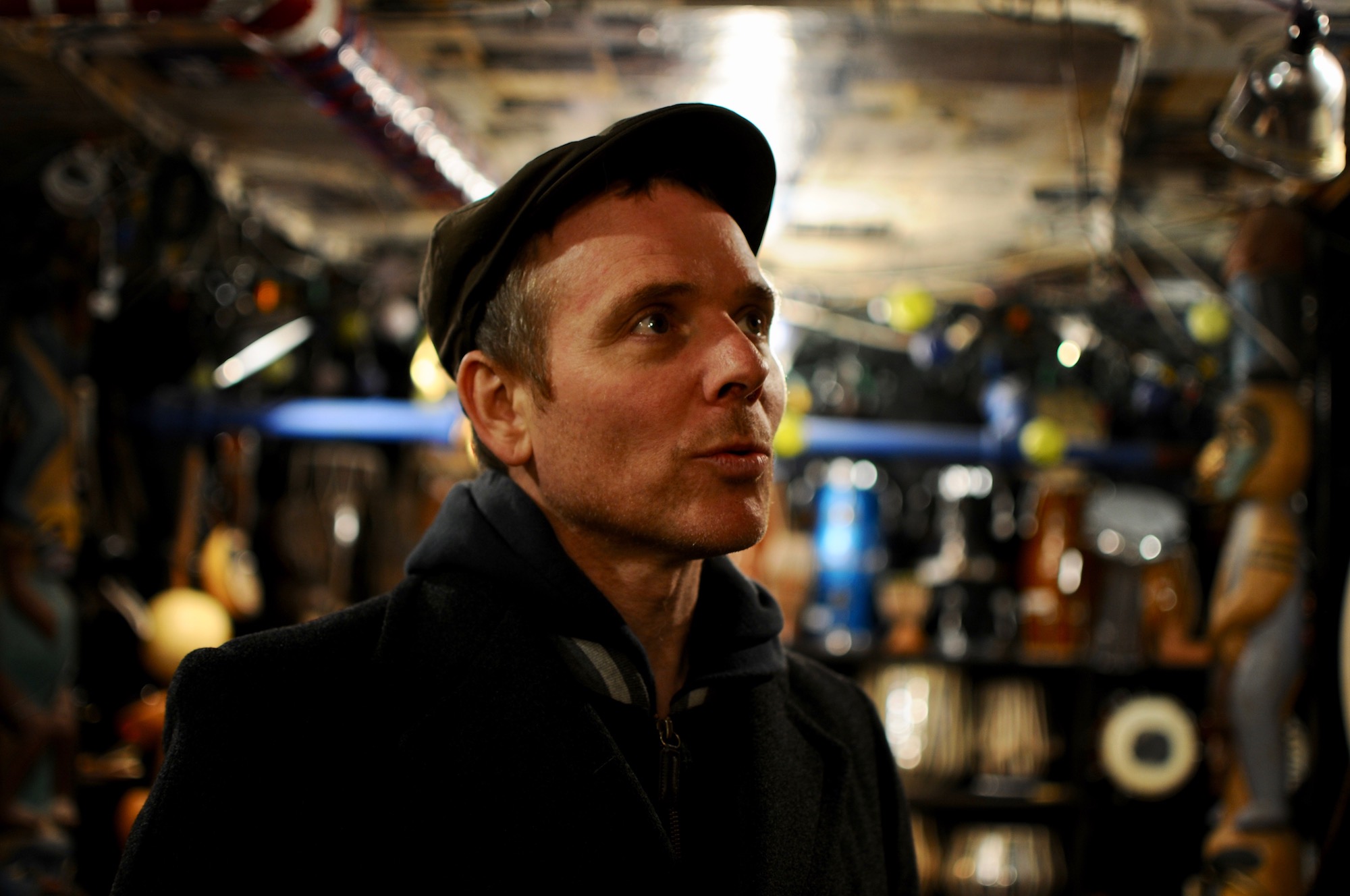 In effect, it's the origin story of "There Is an Everlasting Song," the simplest and most affecting of the new collection. It's a easygoing, '70s-style folk tune with muffled percussion. "I write from a background of spirituality, I always have," Murdoch says. "I think maybe that one has a different slant, a slightly more pragmatic take on the everyday world, and even a little bit of dharma in there."
In another era, a song like this might've have ended with some wry observation on the futility of it all, with the exquisite frustration of a dirty dream or a dispatch from the last bus out of town. In the classical Belle and Sebastian canon, it's the emotional experience that bends the narrative arc, not the other way around. There's a reason that "I could kill you, sure, but I could only make you cry with these words" cuts so deep.
But "Everlasting Song" is about seeing the other side, where cynicism is second to something more hopeful. Murdoch wrote it while sitting by the river not far from his home, watching the sun come up and the birds fly. "I stumbled out the other morning in quite a dark spot," he says. "But by the time I'd written the six verses or so, I was somewhat restored." He and Jackson took it to the studio just a day or two later, but there's nothing rushed about the finished product. The everlasting song is the one that's been there all along: earnest loyalty, some self-deprecation, and the promise of another day to come.