SOB x RBE, a promising rap quartet of turn-of-their-20s-somethings in Vallejo, recently received their greatest moment of exposure yet: an appearance on the soundtrack for Marvel's box-office-breaking monolith Black Panther. The opportunity came both thanks to soundtrack supervisor Kendrick Lamar's shrewd A&Ring and, presumably, to director and Oakland native Ryan Coogler's career-long affinity for championing under-recognized Cali hip-hop talent (thus, the generous allotment for Mozzy's "Sleep Walkin" in Panther's denouement). SOB x RBE's contribution to the soundtrack album, "Paramedic!", is familiar in its basic thrust: a future-hyphy track with some baroque flourishes. The song, which features a few asides from Lamar, channels the group's particular, irreverent personality, highlighting their roughshod rhyming cadences and regional traditionalism despite not exactly lining up with the stylistic gist of their other music. More esoteric in its sectional shifts, "Paramedic!" comes across like the group being consciously molded to a slightly more auteurist aesthetic befitting TDE, the highly curated label which Kendrick calls home. It's no less strong an effort for that, but the place where its power resides–in the particular, un-sanded energy of the rapping–points to the effectiveness of the group's imprimatur, which feels like more than the sum of their influences, or merely the beat they rhyme over, with every new song they put out.
Coming hot on the heels of "Paramedic!" (but not including it), GANGIN is SOB x RBE's self-declared debut studio album, despite the fact that they released a very debut-album-sounding full-length project at the beginning of last year and toured internationally behind it. (They will be joining Post Malone and 21 Savage on tour in support of the new one.) The songs on GANGIN don't follow the polished, more high-minded model of "Paramedic!," nor do they lean into the luxe, breezy, radio-ready quality of the group's second biggest song: last year's down-tempo G-funk crooner "Anti," organized around a crooned, Ty Dolla $ign-esque hook from de facto group leader Yhung T.O. Instead, the 43-minute album is dominated by manic BPMs and cluttered, rattling backbeats. Like SOB's best songs before it–see also last year's "Lane Changin"–the music sounds steadfastly resistant to the influence of outsiders, both with respect to its style and feature count (none). It's hard to pin down, but T.O., DaBoii, Slimmy B, and Lul G's comfort zone seems to be an eccentric but surprisingly logical-sounding combination of the rough DNA of decades worth of Bay Area hip-hop (from E-40 to Keak da Sneak to the similarly rowdy collective NHT Boyz), late-'90s Cash Money, No Limit productions, modern trap, and R&B music.
The record opens unapologetically with the unruly "Carpoolin," driven by a racing freestyle dance beat and orchestra hit sample (Noel's "Silent Morning," specifically) that sound as if they're being fed through a blown woofer. In a recent interview, the group lamented that being in the studio these days felt more "like work" than their former days recording "in the garage on some straight gang shit." But from listening to at least the first half of GANGIN, you wouldn't think their process had changed much at all. Their breathless stop-and-start flows bunch up and spring forward; their verses are packed full of skewed analogies ("Let a nigga hit like I'm Barry Bonds / And I don't fuck with niggas, I'm a Uncle Tom") and their own insular slang. They refer to themselves and their crew as "demons" and "goblins," and compare the old days with the still-novel new ones–the trusty Honda Civic sits next to the shiny new foreign in the driveway. They rap about "not fuck[ing] with" outsiders and/or stealing people's girlfriends on all 15 songs on this album, but between the four of them, they continue to find novel-enough ways to reframe those scenes. The album single and standout "Anti-Social" finds focus through Yhung T.O.'s dulcet sing-song hook and producer Don Juan's midnight disco underpinnings, but is still framed around a maxed-out Woody Woodpecker bass drum and DaBoii's raspy screaming about his ability to "make racks" while just he "sit[s] on [his] ass." These are the kind of extremes that SOB x RBE can mold into instinctive and infectious musical combinations.
As is clear on the tracks that he dominates on the album (see "Stuck Up" and "Always," in particular), Yhung T.O. is the force which gives most of SOB x RBE's poppiest songs their shape and gentler nuance. He is the member of the group that sounds most like a rapper you might hear on a Clear-Channel-sanctioned rap playlist or Rap Caviar. His voice is plush and soothing no matter if he's singing come-ons or rapping middle-school-humor one-liners, which is important in breaking up the feral intonations of the rest of the group.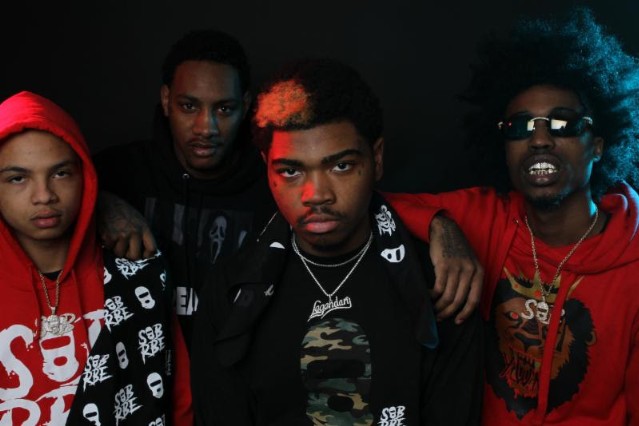 The wilder DaBoii is his foil: acerbic, tactless, prone to growling or dropping as far off the beat as he pleases. How he manages to find it again is central to the power of his verses. His contributions are essential in creating the dominant aesthetic of the group's music: regulated disorder, which is further affirmed by Slimmy B's similar mannerisms. But DaBoii's delirious style is not some happy, amateurish accident. When he contributes a hook (which is usually T.O.'s responsibility) it's a testament to his remarkable rhythmic control and mature sense of pacing as a songwriter—see, in particular, the sharp but unforced pivots in his cadence during the chant-along chorus of "Can't."

Appealingly, GANGIN simultaneously sounds like a raucous mess and, upon closer listen, much more lovingly put-together than the you might expect the work of friends from Vallejo who cut their teeth making tracks using iPhones and Playstations to be. A side effect of SOB x RBE's admirable commitment toward claiming their breakout moment on their own terms is GANGIN's stylistic uniformity, or to be less generous, sameness. But relatively undifferentiated mixtapes that coalesce around a small group of themes, tempos, and production templates have long been an ideal mode for independent street rappers to make a real case for themselves as potential Next Big Things–to put across their style convincingly and without dilution. On GANGIN, the group doesn't overreach for poppier diversity too soon, as if they know the resulting portrait would be less flattering, or at least get them shit in their hometown. The energy they maintain is infectious.