Two albums worth of Rae Sremmurd songs, not to mention features and freestyles, have demonstrated the hyperactive Mike-WiLL-Made-It-fostered duo's ability to exceed expectations. Like "Versace" for the surprisingly consistent Southern hitmakers Migos, Rae Sremmurd's breakthrough 2014 hit "No Flex Zone" initially had the strong aura of a one-hit-wonder. Early in their careers, both groups clearly possessed a certain marketable flair but not necessarily a musical signature that was markedly different from that of their ATL-inflected trap peers. (At first, the "Migos flow" felt more like a gimmick than rap's next big stylistic wave, especially since it was so frequently used to repeat comical proper nouns ad infinitum in the group's songs' hooks.) But both groups proved everyone wrong within a couple of years, with multiple hit full-lengths and their biggest singles still to come.
There were commercial and creative disappointments along the way, and presumably, we can look forward to more, especially given both groups' rate of productivity. Migos' screed of a new album Culture II demonstrates a lack of direction and quality control (pun intended), and includes no obvious superhit, despite the group's impressive streaming numbers. Rae Sremmurd, meanwhile, is preparing to unleash an even longer project—one which will also, no doubt, result in good Spotify stats, by sheer virtue of its epic scale. Their upcoming SR3MM will include a collaborative disc as well as Speakerboxxx/Love Below-style solo efforts from Swae and Jxmmi, a move that feels overly ambitious at this point in the duo's career.
"T'd Up," the first song released from the project, won't be enough to assure skeptics that their fears about SR3MM are misplaced. Set over a standard-issue Metro-Boomin-helmed beat (on which Swae Lee also collaborated), the song skews to the mellower side of trap rap writing. "T'd Up" is filled with open space, reflecting the sound of Swae and Jxmmi's latest trendsetting competition: the likes of Lil Uzi Vert and Playboi Carti. As on hits like Carti's "Magnolia," the hooks and verses in "T'd Up" are part of the same impulse, flowing into each other without changes in emphasis.
Sremmurd's best songs mix their feral delivery and goofball humor with evocative and trendy production; 2014's "No Type" still reigns as the best example of this dichotomy. The skeletal and gently lurching beat was a perfect launching pad for deceptively intricate flows that gradually expanded and complicated. The taunts and similes were indelible, unapologetic, silly; at his best moments, Swae Lee, especially, can make punchlines that are unremarkable on paper sound like revelations. The less distinguished Rae Sremmurd songs also have hooks that get in your head, even if they annoy you; more often than not, those initially irritating ideas come back around to being lovable—like "All my girls do yoga/And get high at night," against all odds. Swae and Jxmmi's "T'd Up" flows are muscular, but neither the laconic wisp of a chorus nor the restrained verses contain a clever line or gesture that really jumps out.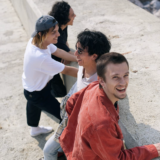 The best moment in "T'd Up" is probably Swae's second verse, where at least some of the flow choices actually feel surprising. The section is too short to build a convincing argument, though, and ultimately, hangs its hat on a weak "No Flex Zone" reference. Jxmmi's contribution is an animated series of staccato cultural references and stock boasts that doesn't add up to much. "T'd Up" is an awkwardly and worrying place to start an album cycle. One can only hope that its atmosphere, insubstantial but not unpleasant, will come across better in context.
https://youtube.com/watch?v=DBPdIwKKoeM