When Franz Ferdinand teamed up with Sparks for the 2015 collaborative project FFS, the only surprise was that it took so long. The former was the smartest band to emerge from England's mid-'00s post-punk revival and, like the Mael brothers, excelled at smarm-free cleverness. For example, people were too busy dancing to the strutting "Take Me Out" to realize that its coy conceit—demanding an epic night on the town—is underlined by futility: "I know I won't be leaving here with you."
The music on Always Ascending, Franz Ferdinand's fifth studio album, also provides plenty of close-listening surprises. Although Franz Ferdinand's trademark épée-sharp guitars do crop up (notably on "Lazy Boy"), the album's verve and backbone comes from synthesizers. Chalk this up to the influence of producer Philippe Zdar, who has shepherded records by Cassius and Phoenix, and a major lineup change: Founding guitarist Nick McCarthy left the band in 2016, and was replaced by keyboardist/guitarist Julian Corrie, a Glaswegian electro-pop musician who records and does remixes under the name Miaoux Miaoux.
Accordingly, Always Ascending is more influenced by disco and electronic music than previous Franz Ferdinand efforts. The title track blooms with bursts of spiraling keyboards and clipped drums; the dub-kissed "Finally" alternately resembles Gorillaz and Parklife-era Blur; and spongy synths, fuzzy saxophone and crisp hi-hats coalesce to create dancefloor ecstasy on "Feel the Love Go." Still, the band isn't afraid to take risks: Take "Huck & Jim," which matches pointed nods to the differences between U.K. and American politics with sonic gear-shifting. The song's verses are stealth and ominous, driven by tense bass lines and a dull keyboard buzz. A pre-chorus bolstered by Kapranos' quick-cut rapping gives way to a pint-raising, sing-along chorus hook referencing a debauched hang: "sipping forties with Huck and Jim."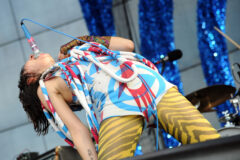 Such unexpected (and arch) lyrical twists are present all over Always Ascending. The Kraut-pop number "Lazy Boy" features a familiar Kapranos protagonist—a mischievous boy—who enjoys "lying in your bed, thinking of how a lazy boy loves you." This sweet (if navel-gazing) sentiment sours when it's made clear he isn't like the lithe lothario Michael, of Franz Ferdinand's titular 2004 single. In fact, this low-energy beau isn't actually interested in putting romantic thoughts into action. "Glimpse of Love," whose throbbing beats and urgent keyboards call to mind Blondie's Giorgio Moroder phase, describes a "flawless" beauty who emerges one day "sport[ing] a bruise on her neck"—reasons unknown—while the title track comments on fame's seductive, illusory qualities.
On an even deeper note, the highlight "Lois Lane" illuminates the dark side of prioritizing work over a personal life. After starting off as a gleaming, day-glo '80s-pop gem dripping with pious self-sacrifice, the song turns on a dime in the last verse, and transforms into a pub-punk stomp. Instead of earnest optimism, the band now hollers and mutters about "over-thirties singles night" and how "it's bleak, it's bleak, it's bleak." Just before the song concludes, vocalist Alex Kapranos whispers, "See you next week."
Despite such surface gloss, it's clear Franz Ferdinand are still finding their creative footing without McCarthy. The taut arrangements present on previous albums can occasionally give way to moody repetition ("The Academy Award") or sluggish tempos ("Slow Don't Kill Me Slow"), robbing the record of immediacy. This is a small quibble, however: Unlike many of their peers, Franz Ferdinand are successful at expanding their sound and finding new, meaningful things to say on Always Ascending.