Alice Glass has won a court victory against ex-bandmate Ethan Kath of Crystal Castles, she announced in a tweet. "I won in court today!! the defamation lawsuit against me was dismissed!" Glass wrote. Kath (born Claudio Palmieri) filed suit against Glass (born Margaret Osborn) for defamation in November, after Glass detailed years of alleged abuse by Kath, beginning when she was 15 years old and spanning her nearly eight-year tenure with Crystal Castles. In court filings, Glass reportedly indicated she was prepared to testify that Kath raped and abused her during her time in the band.
I won in court today!! the defamation lawsuit against me was dismissed !
thank you so much for the love and support throughout this ugly process

— ALICE GLASS (@ALICEGLASS) February 23, 2018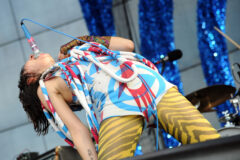 "this is a victory for survivors of abuse and sexual misconduct in countries where abusers use the court system to further victimize and keep people silent," Glass wrote in a follow-up tweet. "WE WILL NOT BE SILENCED."
In the weeks since Glass publicly accused Kath, four additional women came forward in a story from the Daily Beast to accuse Kath of "grooming" teenage fans, coercive sex, and physical abuse. Kath has denied all alleged misconduct. Toronto police have confirmed they are investigating Kath, who has not yet been charged with any crime. In that same story, Kath's lawyers denied all claims of harassment and abuse.
Glass accused Kath of using the defamation suit to "make my life harder for the next however many months" and "to intimidate all of these women that probably don't have access to a lawyer and so they'd be too scared to speak out if they think they'll be sued for hundreds of thousands of dollars."  In his initial suit, Kath claimed $300,000 in lost income for a Crystal Castles tour canceled in the wake of Glass's statement.