Chicago rapper Joseph Chilliams, the older brother of Saba, references Fergie's 2006 hit "Fergalicious" on two different songs on his sharp-witted 2017 debut album Henry Church. The second is "Shake My Ass," a collaboration with poet and singer Jamila Woods, in which Chilliams raps as a woman fending off invasive dudes on the dance floor, and Woods sings as a man who feels entitled to the woman's body. Chilliams opens: "Shake my ass like a rattlesnake / Back it up 'cause I'm so Fergalicious." In a September interview with the WHPK radio show AirGo, Chilliams explains that he didn't originally plan to use the line in a verse rapped from the perspective of a woman. "Those were the first words I wrote," Chilliams said. "I was talking about myself."
The first song on Henry Church that references "Fergalicious" is "Fergie," for which Chilliams released a video today. In it, Chilliams dances on stage wearing a shirt that reads "Vote For Chad"—the song's producer—styled like the "Vote For Pedro" shirt in the 2004 cult anti-humor film Napoleon Dynamite. The rapper's dancing is spliced with footage of the crowd's reaction to Jon Heder's title character dancing awkwardly in support of his friend Pedro's campaign for class president. Chilliams' performance is equally odd and endearing, beginning shy with his hands in his pocket, building to an arm-waving frenzy full of hip action, triumphant and free.
The visuals match the vulnerable tongue-in-cheek silliness Chilliams exhibits with a pen. His pop culture reference-heavy writing has a knack for juxtaposing love and trauma in a way that accentuates both moods, while making you laugh against all good sense. Here, he raps, "Never apply one filter while Instagramming / All natural, keep it in the family / Like slavery / Sexy, sweet and savory." My favorite example of this instinct comes on the first Chilliams song I ever loved, his 2016 loosie "Obamacare," which features the hook, "White folks hate me like Obamacare."
Most of which is to say that Chilliams can fucking dance. There's a reason he and Saba's rap collective Pivot Gang called itself a boy band before Brockhampton made that cool, and why Chilliams jokes that he's Saba's backup dancer. You can watch that reason below.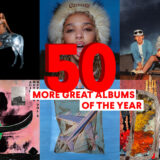 [h/t: Noisey]