An unfortunate mix up cost a Jeopardy! contestant $1,200 on Thursday when she couldn't tell the difference between Jack White and Eminem. In a category devoted to vinyl, host Alex Trebek offered the clue, "A recent vinyl resurgence has been aided by this musician, who built a pressing plant in his Detroit hometown." To help the contestants along, the following photo of Jack White was included:
jack white was a jeopardy answer and this is the fuckin photo they used and a lady guessed it was eminem pic.twitter.com/3yMFsKqNNB

— matt 💀 lubchansky (@Lubchansky) January 12, 2018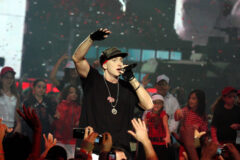 Sadly, even with the "Lazaretto" singer's vampiric face staring right at her, Julie signaled in and incorrectly guessed Eminem.
EMINEM AND JACK WHITE ARE NOT THE SAME, JULIE! #Jeopardy pic.twitter.com/eLVyk1TNn2

— Hunter Alek Homistek (@HunterAHomistek) January 12, 2018
To be fair, both White and Em are musicians from Detroit, so if you didn't know anything about Third Man Records this theoretically wouldn't be the worst guess in the world. It's the addition of the photo that makes this so comical, as the clue boiled down to, "Who is this guy you're looking at right now?" The Jeopardy! clue team then apparently went out in search of the most embarrassing photo of White available. None of that, unfortunately, was helpful to poor Julie.