Last night were the 2018 Golden Globes, and what a time it was for James Franco. He won a trophy for Best Actor in a Musical or Comedy for his portrayal of bad filmmaker Tommy Wiseau, who Franco brought up onstage but barred from speaking. That award prompted Franco to be called out by the actress Ally Sheedy for having apparently done… something to Sheedy, who insinuated in a series of now-deleted tweets that Franco may have caused her to leave show business. Both of those things—Sheedy's tweets and Franco's win—sparked further discussions of Franco's past on Twitter, including concrete, though unverified, accusations of harassment and exploitation.
It all added an extra layer of context to a joke told by host Seth Meyers during his opening monologue. Meyers' monologue was uniformly funny on its face and also tonally perfect, immediately acknowledging the special circumstances of the night while deftly linking the audience's discomfort to his own, comparing himself, as the first person to host a Hollywood awards show post-Harvey Weinstein, to "the first dog they shot into outer space." Meyers told a few really pointed jokes that produced audible discomfort from the typically stuffy room, joking about Hollywood's eventual reaction to Weinstein's death and comparing the plot of The Shape of Water—in which "a naïve young woman falls in love with a disgusting sea monster"—to that of every Woody Allen movie. Still, Meyers needled the audience instead of attacking them, which helped his critiques to go down smooth, allowing the jokes that contained those critiques to work as subversion.
But there was one joke about James Franco that I can't quite figure out. It went like this:
I live in New York, so one of my favorite shows of the year was "The Deuce." If you haven't seen it, "The Deuce" is a show about Times Square in the early '70s, when New York was so seedy there were two James Francos.
This is a funny joke about a fairly unimportant show, but what exactly is it trying to say? Franco's art often examines sex and perversion—in 2013, for instance, he starred in and directed the docudrama Interior. Leather Bar., which was loosely based on 40 or so minutes of explicit gay sex cut from the 1980 movie Cruising. The Deuce itself is about the porn industry, with Franco playing twin brothers who eventually get into the business via the mob. Maybe that's all this joke was: James Franco makes films and television about sex, sex is seedy, yada yada.
But it's impossible not to think about… all the other stuff that arises when James Franco's "seediness" is brought up. Back in 2014, a 17-year-old girl who met Franco after seeing his Broadway play Of Mice and Men revealed that the actor aggressively tried to meet her privately, even asking her if he should book a hotel room for the proposed rendezvous. Franco admitted to that incident, saying, "Seventeen is legal in New York, but that being said, it's still pretty damn young." Maybe there is nothing else to know, but rumors and secrets in Hollywood travel far.
If Meyers was very subtly pulling Franco and his private life out of the shadows with that joke, then he wouldn't have been the first comedian to use such a pulpit to do such a thing. At a ceremony announcing Oscar nominees in 2013, for instance, Seth MacFarlane now-famously made a joke about nominated actresses no longer having "to pretend to be attracted to Harvey Weinstein." But if that is what Meyers was doing—making a wink-wink joke about someone that other famous people know to be a creep, one which would probably go over the head of the average viewer—then it shows that Hollywood, despite its grand pronouncements about time being up for those creeps, hasn't actually changed all that much. In the morning and afternoon after the ceremony, none of Franco's peers have said anything about him winning an award during a night colored by jokes and speeches about how the film industry treats women, even after he admitted to trying to hook up with a 17-year-old fan. (We should pause here to note that Casey Affleck was applauded after winning at last year's Globes, despite having twice been sued by former coworkers for inappropriate behavior.) There have been no reactions to Ally Sheedy's tweets from those in Hollywood. Celebrities are busy people, but if there is anything more to be learned about Franco, Hollywood appears content to let the same old cycle play out, with a wave of shock from peers and the trickling out of stories from other victims only coming after a journalist reports and publishes a story. Meyers' joke, then, would be the "a ha!" moment everyone missed, except, given the nature of last night's ceremony, that can't actually be the case.
Or, again, maybe the joke was nothing. It's hard to tell: it didn't produce uproarious, bubbly laughter like much of Meyers' monologue, but it also wasn't met with the same mixture of jeering and palpably uncomfortable silence as his punchlines about Weinstein and Allen, reactions from the audience that signaled both an understanding of the severity of those situations and an uncertainty about when it would be okay to laugh about them. Maybe, in our fishing for context clues, it might be best to see how Franco and his brother Dave, sitting next to him at the ceremony, reacted to Meyers calling Franco "seedy":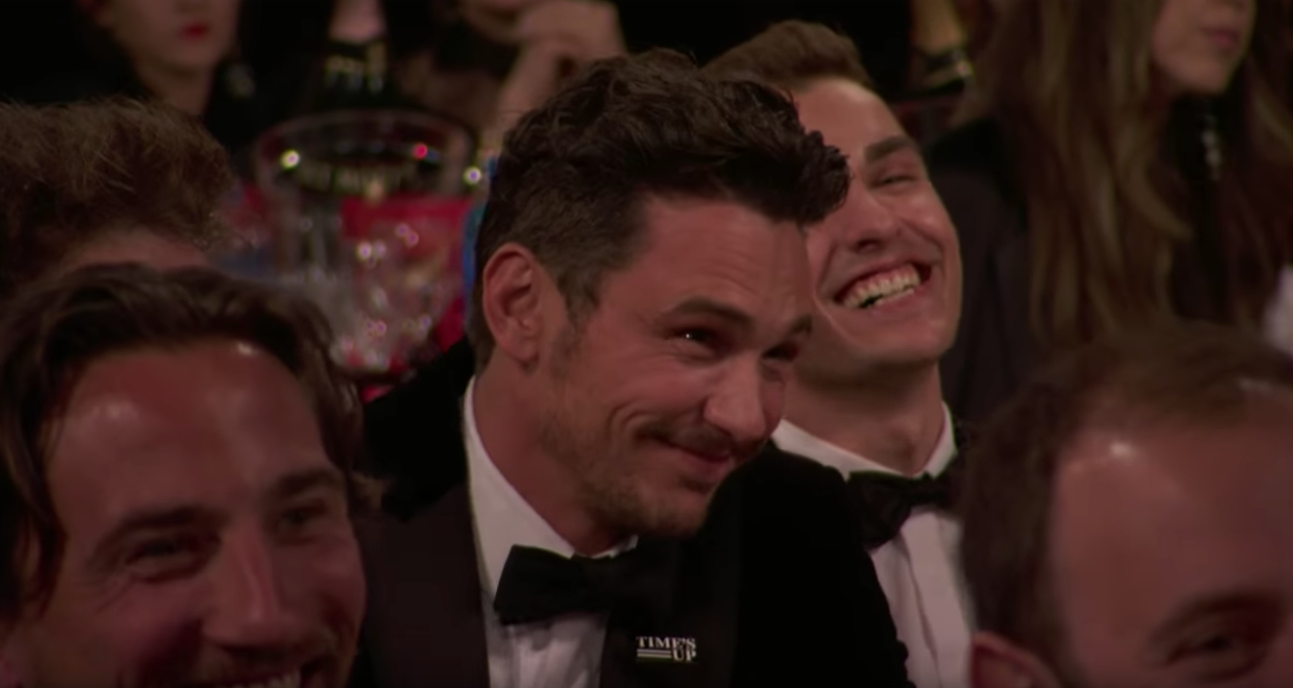 Hm.