Alice Glass has released a new track and accompanying visual for "CEASE AND DESIST," her first new song since last year's self-titled solo EP.
After departing Crystal Castles in 2014, Glass last year detailed years of alleged abuse at the hands of her Crystal Castles bandmate, Ethan Kath. Kath, who is under investigation in Toronto for alleged sex crimes and faces accusations of sexual assault from at least one other woman, has since sued Glass for defamation.
Whereas her solo EP shared some goth inclinations with Crystal Castles, her newest single, featuring writing and production by Jupiter Keyes and Dreamcrusher, includes shrieking vocals and harsh, distorted synths, along with lyrics that inspire resilience: "Promise me you're never the victim / Promise me you have to fight."
The video features colorized, pixelated images of concert footage, rabbits, archival footage, and more.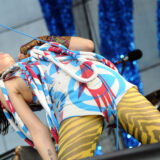 In a statement about the new track, Glass explains the inspiration behind the powerful lyrics: "This song is a call to arms for all survivors. But being a survivor often means feeling afraid, it means sometimes feeling worthless, like you can't go on. We need to fight back against those who have victimized us and against the feelings that tell us to give up inside. Sometimes we think we deserve the pain others have inflicted on us." She continues, "This song is what I need to tell myself to get through each day, and what I hope other survivors can remember when they feel like they can't make it through the darkness of their own recovery. Every day is a fight."
Watch the video for "CEASE AND DESIST" below.