It seems Stone Temple Pilots' new frontman is feeling up to the job. Today, the band announced 14 new tour dates for spring 2018, their first jaunt to feature singer Jeff Gutt. As expected, the band are also planning to release a new album in 2018. The title and other details are yet to be announced, but you can probably expect to hear "Meadow," their first new single since adding Gutt to the lineup.
Gutt, 41, made his live debut at a warm-up show in Los Angeles last month. He replaces Stone Temple Pilots' original singer Scott Weiland, who died as a result of an accidental overdose in 2015. Weiland was previously replaced by Linkin Park's Chester Bennington, who took his own life earlier this year.
In an interview with Billboard, guitarist Dean DeLeo said the Pilots have prepared 14 new songs, including some music co-written with Gutt even before he landed the job. (They made it official in May of this year.) DeLeo also talked up Gutt's musical talents, describing him as "a good dude" and a relief to work with compared to the turmoil sometimes occasioned by Weiland: "I felt like I was slighted with Scott. As great as he was, my entire life was two steps forward and three steps back. So I'll tell you, it was a real pleasure to be able to write and record a record under these circumstances."
Read the full interview here, and see all of Stone Temple Pilots' upcoming tour dates below. Tickets go on sale this Friday, December 8, at 1 p.m. ET and may be purchased here.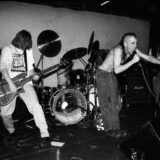 Stone Temple Pilots 2018 tour dates
March 2 — Santa Clarita, CA @ The Canyon
March 3 — Indio, CA @ Rhythm Wine & Brews Experience
March 4 — San Diego, CA @ Observatory
March 8 — Pasadena, CA @ The Rose
March 9 — Las Vegas, NV @ House of Blues
March 10 — Phoenix, AZ @ Marquee
March 12 — San Francisco, CA @ Fillmore
March 13 — Sacramento, CA @ Ace of Spades
March 15 — Portland, OR @ Roseland
March 16 — Boise, ID @ Knitting Factory
March 17 — Billings, MT @ Pub Station Ballroom
April 28 — Jacksonville, FL @ Welcome to Rockville
April 29 — Fort Rock, FL @ Fort Rock Festival
May 20 — Columbus, OH @ Rock on the Range